A former monk's works of devotion
By YIP YOKE TENG, The Star, April 14, 2007
Sri Petaling, Selangor (Malaysia) -- The 67-year-old from Zhejiang province, China, never officially left the monastery although he was forced to quit the monkhood during the Cultural Revolution in late 1960s.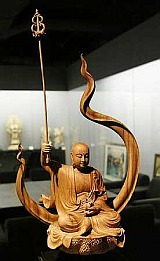 << Appealing lines: A Ksitigarbha Bodhisattva (Di Zhang Wang) statue with smooth, soft lines.
Ever since then, the devoted soul has been quietly and diligently restoring Buddhist murals damaged during those chaotic times.
Making his way from temple to temple in the surrounding provinces, lately with a small group in tow, Lian has never asked for anything in return.
His efforts so moved Shian's Art Gallery manager Huang Po Wei, who made his acquaintance in 2004, that Huang offered to hold an exhibition of his works to raise funds for the restoration efforts, but Lian Meng turned it down.
"It was only recently, when he needed to buy some tools that would enable him to go about the restoration better, that he was willing to accept our suggestion to put up some of his works for sale," Huang said.
"Lian Meng's works are not done for commercial purposes at all. He does not intend to use them to generate funds. After all, each of the works took him about six months to complete.
"And, when people offered to give him more to support his cause, he rejected the offers. He did not want anything more than the amount needed to buy the restoration tools," Huamg added.
About 20 of the works depicting Bodhisattvas – some of which were inspired by the murals on the world-famous Dunhuang grottoes while others are styled after the splendid images typical of the Song Dynasty – are being exhibited at the gallery.
"The works are meticulous. Looking at them, you will realise how much effort he has put in and how devoted he is to Buddhism," Huang said.
Also gracing the gallery are intricate wood sculptures of Bodhisattvas. More works have been brought in as the gallery has ceased its operations in The Summit shopping centre in Subang Jaya to concentrate on the current location with its larger space.
A section of the gallery has been made to look like a small temple with golden statues of Buddha casting an aura of tranquillity. Books, CDs, incense and crystals are available here to "nourish" one's soul. Sofas are scattered around the softly lit gallery to allow visitors to immerse themselves in the calmness.
The gallery is located at Lot 3-056, 3rd Floor, Endah Parade, No. 1, Jalan 1/149E, Bandar Baru Sri Petaling. For details, call 03-9543 4669. The gallery is closed on Mondays.