At Kang Collection Korean Art's March 08 Show, Classic Art Inspires Contemporary Painters
News-Antique.com, Feb 28, 2008
CONTEMPORARY ART, CLASSIC INSPIRATION: Influences of Buddhist and Literati Art on Contemporary Korean painting, juxtaposes contemporary art by Ik-Joong Kang and Her Suyoung with classic works
New York, NY (USA) -- Kang Collection Korean Art is pleased to present a new exhibition, Contemporary Art, Classic Inspiration: the Influences of Buddhist and Literati Art in Contemporary Korean Painting.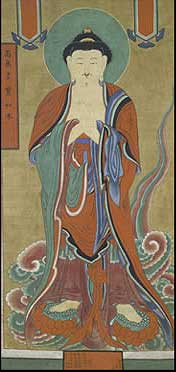 << One of the oldest forms of Buddhism, the Pure Land tradition is based on the concepts of Buddha realms, each of which is ruled over by a different Buddha. Pure Land followers pray to a specific Buddha in hopes of being reborn in that Buddha's realm. Of the five major Buddhas of Pure Land Buddhism, Ratnaketu reigns over the south paradise. Here, he is depicted standing on a cloud, with butterflies on either side of his head. Named the "jewel-excelled one," he was also used in rituals of prosperity and wealth.
Opening March 14 and running through March 28, this new exhibition juxtaposes traditional Korean Buddhist paintings with the Buddhist-inspired contemporary works of Korean painter/installation artist Ik-Joong Kang (b. 1960); and classic literati landscapes with the contemporary landscapes of Korean ink painter Her Suyoung (b. 1972).
In the exhibition, works from Mr. Kang's Happy Buddha series adjoin prized Korean Buddhist paintings created by 18th- and 19th-century monks, and the "seven-star deities" Kang mentions in the introduction to his monograph, Ik-Joong Kang, are those in the 18th-19th-century Seven Star Spirits wall painting hanging nearby. Landscapes by Her Suyoung, exhibited alongside 19th-century landscapes by Heo Ryeon, Yun Yong-gu and Yi Han-cheol, underscore the great breadth of literati landscape painting and the Korea's changing aesthetic values from the Joseon Dynasty to the present.
About Ik-Joong Kang (b. 1960)
Winner of the Special Merit prize at the 1997 Venice Biennale, Ik-Joong Kang (b. 1960) has exhibited in museums and public spaces around the world. Mosaic-like, often colossal, his installations explore community, culture, and human interrelation through the complementary lenses of intimate personal experience and global unity.
Notable works by Kang include Amazed World, compiled from 34,000 drawings by children from 135 countries and exhibited at the United Nations from 2001-2002; 8,490 Days of Memory, made almost entirely of chocolate and displayed in his one-man show at the Whitney Museum of American Art; and his "Wall of Waiting," an enclosed installation near Korea's DMZ that incorporates 50,000 drawings by South Korean children along one half, and that—still awaiting 50,000 drawings from children in North Korea—remains empty along the other.
Ik-Joong Kang's works are permeated by childlike wonder and sensual pleasures, and, like those of his close friend Nam June Paik (1932-2006), embrace experimentation and technology: Kang's Buddha With Lucky Objects incorporates a motion detector that allows viewers to act as shaman, rousing the "lucky" dime-store objects affixed to the wall into a flurry of sound and movement. Yet Kang's artistic connection to classical Korean art remains strong. Not only was Kang's great-great-grandfather Kang Sehwang (1713-1791) one of the most influential literati painters and critics of the Joseon Dynasty (1392-1910), and both his grandfathers accomplished artists, but his work reveals a fascination with Buddhism, Korean shamanism, and iconic Korean art forms.
While Mr. Kang's Buddhist-inspired works also evoke other Asian sources, his Moon Jar paintings are inspired by what is a truly Korean art form. The iconic and massive moon jar, named so for its ample, full-moon shape, is unique to Joseon Dynasty (1392-1910) Korea. Made of austere white porcelain, devoid of ornament, and celebrated for its unique natural contours, the moon jar reflects Korea's Neo-Confucian virtues of purity, clarity, and humility, and self-expression. "Its rounded figure exudes the feeling of cosmic compassion, yet in a very humble and tranquil manner," Kang explains, describing why he was drawn to the moon jar as inspiration.
Ik-Joong Kang's works in Contemporary Art, Classic Inspiration are done in his unique style of 3x3 in. miniature paintings, arranged in a colorful grid.
Kang explains how, as a student at Pratt, he developed his trademark technique:
"I developed the 3 x 3-inch format...in response to practical necessity. As an impoverished student, I worked a total of twelve hours a day at a Korean grocery store in Manhattan, and as a watchman at a flea market in Rockaway, Queens. Looking for ways to effectively utilize time spent on long subway rides, I discovered that 3-inch square canvases fit easily into my pocket and into the palm of my hand. My lengthy commute became transformed into work time in a mobile studio."
Kang has exhibited widely, including a one-person exhibition at the Whitney Museum of American Art at Philip Morris, New York, and a two-person exhibition with Nam June Paik at the Whitney Museum of American Art at Champion, Connecticut.
He has had group exhibitions at the Museum of Contemporary Art, Los Angeles; the Ludwig Museum, Cologne, Germany; and the National Museum of Contemporary Art, Seoul. His works are in the collections of the Whitney Museum, Ludwig Museum, the Museum of Contemporary Art, Los Angeles, and the Lee-um Samsung Museum of Art, Seoul. He has created permanent installations for the San Francisco International Airport, New Jersey Transit Authority, and MTA of New York. Kang's awards include a Louis Comfort Tiffany Foundation Fellowship and a Joan Mitchell Foundation Fellowship. Kang received a BFA from Hong-Ik University and a MFA from Pratt, lives and works in New York, with his wife and son.
On the web: http://www.kangcollection.com/