Shining light on depopulation problem
by Saori Kan, Daily Yomiuri, Feb 29, 2008
Sado Island, Japan -- The recent trend toward the mergers of villages and towns, known as "Heisei no Daigappei," has drastically reduced the number of municipalities in the nation, from 3,231 to 1,821 as of March 2006.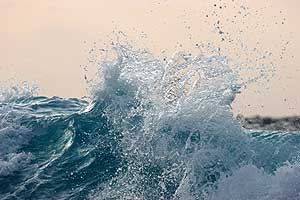 << Wave (Nami) by Syoin Kajii, a priest from the Shingon sect of esoteric Buddhism
Hundreds of small towns and villages have become parts of big cities. In many regions, however, villagers' lives seem to have undergone no major changes, as seen in the thousands of "genkai shuraku"--rural communities that have reached the limits of manageability due to depopulation and where people aged 65 or older make up more than half the population.
For Syoin Kajii, 31, a photographer and Buddhist monk on Sado Island, Niigata Prefecture, such depopulated communities are the main theme of his photography.
About 260 of his photos depicting such communities are now on display at Genkai Shuraku: Marginal Village, an exhibition at the Foil Gallery in Tokyo.
Portraits of elderly fishermen and farmers at work are on display, along with photos of their traditional houses, pet cats and dogs and scenes of the surrounding nature, including flowers, trees and mountains.
"I want to show the beauty of the villages and the lives of their inhabitants, not by showing unoccupied houses and signs of decay...or whatever," Kajii told The Daily Yomiuri.
When he was a student at the Shingon sect's Koyasan University in Wakayama Prefecture, he traveled around the world, visiting Britain and Papua New Guinea and following the Mekong River upstream by canoe and bicycle in Cambodia.
But his interests finally brought him back to Japan.
Since 2000, when he became the resident monk as his grandfather's successor at a seaside temple on the northern part of Sado Island, he has been focusing on the lives of such depopulated communities across the nation, while photographing the waves of his beloved sea nearby.
In 2005, Kajii won the Photographic Society of Japan's most prestigious award for new photographers with his first photo book, titled Nami (wave), which features many closeups of the expressive breakers.
Raised in the city of Niigata, Kajii had been uninterested in the depopulation problem of rural communities. "But when I visited my temple's danka [Buddhist parishioners], I was shocked to find that more than 70 percent of the local residents were elderly," he said. "Much of the younger generation had moved to big cities. It made me concerned about how the locals were living."
Starting by visiting nearby communities on the island, he has since visited dozens of rural communities, where he photographed people's lives and natural scenery while talking to people who could remember how the villagers used to live a long time ago.
Kajii, who belonged to a mountaineering club when he was a high school student, usually decides where to go by consulting topographical maps, he says. "I often pick villages in mountainous areas."
However, he doesn't arrange interviews with local people when he goes to such marginal communities. "I just went to the villages and listened to the stories of locals who I happened to meet or people whom I was introduced to."
When he visited the Oshuku district, with just 67 households in a valley in Ashikawamura (now Fuefuki City), central Yamanashi Prefecture, he met a 93-year-old retired farmer and his wife, 87, who had lost their four children in 1966 due to a landslide after a typhoon hit the area.
In Shosanbetsumura, northern Hokkaido, Kajii met an 87-year-old retired farmer who described how he and his family had had a tough time wresting a living from the land after moving there from Toyama Prefecture in 1946.
"Listening to such stories [in many rural communities], I understood there was exodus during the high economic growth period and this contributed to the collapse of their mutually supportive communities," Kajii said.
"Even for people living in big cities, genkai shuraku isn't just somebody else's problem," Kajii added. "For example, if people in mountainous areas abandoned their communities, the forests would be left to go wild, affecting the water control in big cities downstream.
"I hope my exhibition will be an opportunity for people to learn more about rural lives and think [about the depopulation problem] as something more familiar to themselves."