Monks and Meditation
by RICHA BHATIA, Indian Express, Nov 2, 2008
A Swiss photographer focuses his lens on Buddhism in Asia
New Delhi, India -- On a warm October afternoon, Swiss photographer Beat Presser diligently gave final touches to his exhibition titled "Oasis of Silence", currently on display at Visual Arts Gallery. Presser, 55, strolled around the venue and in a lilting accent described the background of each black and white print.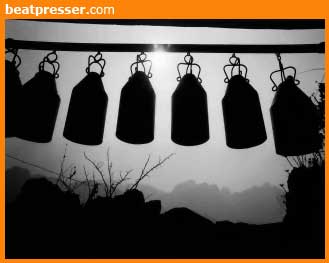 A lean monk with an air of asceticism, a Thai nun meditating in water (the phenomena called Mae Chii) and a shaft of light penetrating a spartan room where a group of young monks are hard at studying scriptures, are some of his images, dating back to 2000.
"Most places in South Asia, except Burma, have become very commercial. It's quite common to find a group of monks travelling in a car. I first went to Thailand 35 years ago and things have changed immensely. Now everything revolves around money," says the Basel-based photographer, dressed in a blue shirt, with salt and pepper hair fringing the forehead.
However, Presser, who has worked along with famous German filmmaker Werner Herzog for eight years as a still photographer and camera assistant, assiduously sidestepped the anarchist route of profiling the idiosyncratic facets of Buddhism.
"My work is driven by an original idea. Being a Buddhist, I believe in idealising Buddhism, not criticising it," says Presser, whose CV boasts of a stint in fashion photography, film direction and an editor of a Basel photo magazine. On display are 59 prints — including one of female monks enjoying a light moment and a well-lit monastery shot with a Leica.
"The images are immersed in Spirituality and there is a sense of calm," says Presser, pointing out to the Theravada Buddhist temples of Thailand, Myanmar, Laos, Sri Lanka and Cambodia. Providing a dash of colour are 30 images of Mahayana Buddhism which took him to Korea, where he arrived in the midst of winter last year, and a few images from Ladakh.
"The colour happened quite by accident. It's the first time I am doing digital, though I am a film man," shares Presser. He adds, "Every year I keep adding layers to the project "Oasis Of Silence" and I have an interactive section on a website where people can post their images. So, it's like a growing community," he says.
Up next, he hopes to travel to Nepal, Bhutan, Japan and Singapore. "I want to tell the evolution of mankind and how trades flourished in Madagascar," says Presser, who is also holding a ten-day workshop in Delhi.
The exhibition at Visual Arts Gallery is on till November 4.
On the web: http://www.beatpresser.com/