In praise of humanity
By ANDREW J. WEST, The Bangkok Post, May 7, 2009
New show by prolific Thai artist Alongkorn Lauwatthana delves into the riddle of absolute truth

Bangkok, Thailand -- Riddle me this: What does Lewis Carroll and neo-traditional artist Alongkorn Lauwatthana have in common?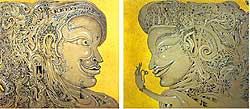 In his latest show, "In Praise of the Cultured Man", at Number 1 Gallery, Alongkorn turns his attention to humanity, claiming to express the reality of absolute truth without any attachment to the superficiality of physical appearances.
Alongkorn has established himself as a regular exhibitor on the Thai art scene since 1998 and achieved significant recognition as a muralist for his contributions to several temple projects. In his last show, "Abiding Faith", he concentrated on interpretations of forms found in nature.
In this exhibition he has created composite scenes of men and women that incorporate elements of the traditional Thai mural birds-eye-view style. Somewhat reminiscent of the Japanese ukiyo-e or images of the floating world, he renders his view of the world as a series of thematic allegories, beliefs that are grounded in his Buddhist religious ideology.
Alongkorn is without doubt a talented technician, able to pay extraordinary attention to detail in each of his acrylic-on-canvas pieces which he draws in graphite pencil first as a guide and then covers with paint, leaving the lines clearly visible. This facility is a common feature among Thai artists, who are still trained in the local art schools to be technically proficient first.
With such fine attention to detail, this is where the viewer must turn if he or she is to find a rabbit-hole through which to fall, as Alice passed through into Wonderland. Alongkorn's Wonderland is populated by religious iconography, symbols of life's pleasures and pains, and of course allusions to the ultimate fate of decay and death.
While it is understandable why such a dogmatic metaphorical language would form the basis for a neo-traditional artist's work, particularly one with obvious religious conviction, it does result in a lack of tension. Yes, on the surface there is tension between man and woman and so forth but a tension the artist all too neatly resolves.
Lewis Carroll's Alice's Adventures in Wonderland is illustrative here. While this children's story - one of the most famous in history - is full of mystery and invention, it has no meaning or message. By being so certain of his message and that he has discovered the answer to life, Alongkorn has undercut any depth from beneath himself.
Neo-traditional art, the contemporary Thai offshoot of Buddhist art as found in the country's temples and palaces, is practiced by a host of artists who manage to reflect upon Buddha's ancient wisdom and comment on the contemporary world, integrating Buddhist symbolism and their personal responses without making this fatal mistake.
None of these other artists claim that life has an ultimate meaning or that it can be arrived at through art. Art has no ultimate purpose. Both life and art are a quest: Never a destination. This is where the unlimited possibilities and inspiration offered by art reside, not in preaching.
Alongkorn along with any other contemporary artists who for whatever reason believe they have found "The Answer" should reconsider their approach to imagination. Unfortunately, Alongkorn has mistaken the absolutely obvious for the absolute truth.
While the artist is certainly dedicated and sincere, he has broken a cardinal rule of art. Art can never be pedagogical: In fact, pedagogy is anathema to art.
If there is a lesson to be learned here it's to be found in Carroll's story. What the Mad Hatter says about riddles is just as applicable to life and art. The Hatter says, The riddle, as originally invented, had no answer at all.
'In Praise of the Cultured Man' is on view until May 24 at Number 1 Gallery, room B26/7, B1 floor, Silom Galleria, Silom Soi 19. Call 02-630-3381 or visit
http://www.number1gallery.com
.