New Zealand: Buddhism gains foothold in the Bay
by RACHEL PINDER, Hawkes Bay Today, Jan 13, 2007
Hawke's Bay, New Zealand -- The house on Tamatea's Norfolk Street looks like any other, but it's not. Six months ago, Hawke's Bay people from the Thai and Laos communities decided to club together and buy a house to convert into a temple, and so the Samma Patipadaram Monastery was born.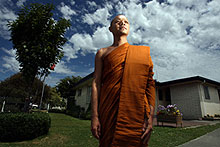 It is a centre of Buddhism and meditation, and is the only monastery outside Auckland and Wellington.
Each day, members of the community bring food offerings for the two monks who reside at the monastery, Phra Ajarn Sudhiro and Phra Ajarn Phramaha Thavorn.
Both monks came to Hawke's Bay from Thailand to reside at the monastery, and are known as "Phra Ajarn" which means "teacher".

Phra Ajarn Phramaha Thavorn has been a monk for the past 18 years, and he started his training aged 12.
His life as a monk means he has to follow 227 rules and he is only allowed to eat one meal each day, and that before midday.
The monk can drink and take medication after noon, but they only eat enough to survive and maintain their energy levels. After a daily ceremony, where people offer their food to the monk, he takes a portion from each offering and places it in a large bowl in front of him.
The food which people bring varies, from traditional Thai and Laos cuisine to takeaway KFC and McDonald's. After he has eaten, the monk spends the rest of the day studying and preparing for Thai and meditation classes.
Panida Tienchantuk-Hunt, who is on the committee for the International Buddhist Group, explained there is a big Thai community in Hawke's Bay of about 40 families.
"As there are so many of us, we wanted a temple so we had somewhere to hold the ceremonies we would normally have in Thailand.
"To start up the temple was just like buying a house, but we needed to raise money to pay for the sustainability of the temple.
"So the community is holding a food fair to raise funds for the temple. "It's open to everyone, and you don't have to be Buddhist to come along," she said.
-------------------------------
The Thai and Laotian Food Fair will be held at Whitmore Park, Tamatea tomorrow from 11am until 3pm.