Disillusioned Burmese hope monk makes sense of killings
By Lincoln Tan, New Zealand Herald, March 24, 2008
Auckland, New Zealand -- Members of New Zealand's Burmese community are hoping one of their revered religious leaders, Venerable Abbot U Pannya Vamsa, can help them make sense of the killings in Tibet during his visit to Auckland this week.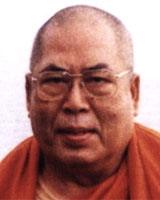 << U Pannya Vamsa
Venerable Vamsa is considered the Burmese equivalent to the Dalai Lama, said Naing Ko Ko, a former political prisoner of Myanmar's military government, who came here as a political refugee last year.
"Many of us Burmese can feel the same pain when we hear about what happened in Tibet because we were in the same situation just a few months ago.
"Many Burmese are disillusioned by the New Zealand Government's soft response on the Tibet issue and we are hoping Venerable Vamsa can help us make sense of it all," said Mr Naing, who last Wednesday organised a protest outside Prime Minister Helen Clark's electorate office against the free trade agreement with China.
Last September, at least 31 people including Buddhist monks were killed when Myanmar rulers broke up pro-democracy demonstrations.
Although this is Venerable Vamsa's fourth visit to New Zealand, it will be his first as leader of the International Burmese Monks Organisation (IBMO), an organisation set up last October after monks were killed in the violence in Myanmar.
Mr Naing said many Burmese hoped that he could help them see the violence happening in Tibet and at home in a Buddhist light.
During his three-day visit from Wednesday, the 83-year-old abbot plans to meet MPs, other religious leaders, supporters and the local Burmese community. He will discuss a way forward in making peace a reality in Myanmar and putting the situation in Tibet into context.
"It is not only the Buddhist and Burmese who are looking forward to his coming; many locals and people of other religions too are looking to him in hope to help us find a direction," said Rev Sumanasiri, a Burmese monk and IBMO member based at the Yadanadipa temple in New Lynn.
Historically, Buddhist monks in Myanmar have always been at the forefront of protests including those against British colonialism and military dictatorship.
Last month, the Myanmar government unveiled what it called a "road map to democracy" saying it will hold a referendum on a draft constitution in May and a general election in 2010.
But it has been widely dismissed by diplomats, dissidents and human rights group as a sham
"The referendum is just window dressing by the military government and designed to keep people like detained opposition leader Aung San Suu Kyi from standing," Mr Naing said.