Buddha's birthday 'for all cultures'
By AMANDA KING, Howick and Pakuranga Times, April 7, 2008
Auckland, New Zealand -- BUDDHA'S birthday celebrations at the Fo Guang Shan Buddhist temple in Botany on Sunday will be a day for all cultures and religions to come together, the organisers say.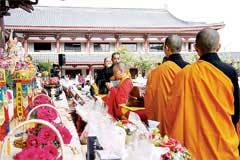 << CELEBRATION: The same festival was held at the Botany temple last year.
"It's to foster a better understanding of other cultures and religious groups," says temple manager Rev Man Wang.
"Buddhism accepts diversity and teaches people to work for the happiness of all people regardless of their faith, race and background."
This is the third year the festival has been held there and thousands of families from all walks of life have attended the events.
The event officially begins at 9am with chanting. Vegetarian food stalls open and activities start around 9.30am.
Activities range from multicultural performances like Indian drums and Spanish dance to face and body painting, a baby blessing ceremony and a new children's wonderland section for all types of fun.
Another significant part of the day is "bathing of Buddha", to remind people to keep a clean mind, free from all obstacles and to awaken and cultivate this potential. The "bathing" refers to a ceremonial bathing of a statue of the baby Buddha, in perfumed water.
Events coordinator Iris Lau says the new element for children was created because it's not always easy for parents and children to find a place to play together.
"We decided there had to be something for the local community to enjoy without discrimination. All families of all colours can come and play," she says.
Rev Man Wang says a lot of people who come to celebrate the special day aren't Buddhist but are curious about the culture.
"At our last baby blessing ceremony more than 50 per cent weren't Buddhist," he says.
But that's not a problem as he says they want people to come from all corners of the world to enjoy the day as everyone is looking for peace.
Around the world 376 million people practice Buddhism and on average the Fo Guang Shan temple has 200 new members a month who join for the guided tour.
Buddha's birthday is a day to remember the birth, enlightenment and passing of the Buddha and is commemorated all over the world.
There will be a three minute prayer for world peace where the struggles in Tibet will be reflected on and leaders from four major religious groups, Catholic, Buddhist, Hindu and Islam, will gather to pray for peace, harmony and prosperity in New Zealand.
• The Fo Guang Shan Temple is on the corner of Chapel and Stancombe Rd, Botany. Entry is free.