Buddhist monastery protects Muslim refugees in Myanmar
By Eko Armunanto, Digital Journam, Jun 13, 2013
Lashio, Myanmar -- More than a thousand Muslims are sheltering in a Buddhist monastery in Myanmar's northeastern town of Lashio after violence that killed one person and burned down Muslim properties.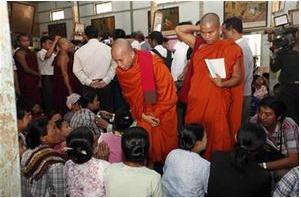 << Buddhist monks welcoming Muslims refugee
The army transported about 1,200 horrified Muslims by the truckload out of a neighborhood in Lashio where overturned cars and motorcycles that had been charred a day earlier left black scars on the red earth. Buddhist monks organized meals for the newly arrived refugees, who huddled together in several buildings in the monastery compound.
A woman who fled a mob a day earlier was still in a state of shock. "These things should not happen," said the woman, Aye Tin, a Muslim resident who slept overnight in a Red Cross compound. She said most Muslims were staying off the streets. They're afraid they'll be attacked or killed if they go outside.
Despite a few Buddhist men still being seen riding motorbikes with weapons like sharpened bamboo poles, there wasn't any violence reported. Banks and shops were reopened as residents emerged to look at destroyed Muslim shops. Trucks of soldiers and police crisscrossed main roads. They guarded the ruins of Muslim businesses that were reduced to ashes.
As previous reports said, the riot began after a Muslim man splashed gasoline on a Buddhist woman and set her on fire. Buddhist mobs responded by burning down several Muslim-owned shops, a mosque and an Islamic orphanage. Deadly anti-Muslim violence began last year in western Myanmar has undermined the credibility of reformist President Thein Sein's administration.
Lashio this week had witnessed how anti-Muslim unrest has slowly spread across Myanmar since starting last year in western Rakhine state and hitting the central city of Meikhtila in March. President Thein Sein's government, which inherited power from the military two years ago, has been heavily criticized for failing to contain the violence.
The Muslim minority (4 percent of about 60 million people) have been the main victims of the violence since it began last year, but so far most criminal trials have involved prosecutions of Muslims, not members of the Buddhist majority.
The violence is casting more doubt over whether Thein Sein's government can or will act to contain the racial and religious intolerance plaguing a deeply fractured nation still struggling to emerge from half a century of military rule.