Myanmar monks make clarification on Buddhist meeting
Elevenmyanmar.com, 15 June 2013
Hmawbi, Myanmar -- More than 200 Buddhist monks took part in a two-day event aimed at promoting the peace aspect of the religion amid a growing criticism from the international community about the role of the religion in the ongoing communal violence.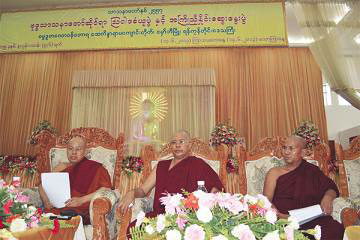 << Dr. Ashin Dhammapiya, Ashin Cekainda, and Ashin Daewunabiwuntha (Photo - EMG)
The event brought together famous Buddhist monks who stressed the peaceful nature of Buddhism. The event was held at the Cekainda Rama Monastery in Hmawbi Township, Yangon Region.
The main purpose of the ceremony is to make clear the peacefulness of Buddhism, which the international community is misunderstanding because of the current situations in Myanmar, officials said.
Head of the State Sangha Maha Nayaka Committee (patronage committee of Myanmar Buddhist monks), Sayadaw Vhaddanta Panna Vansa from Malaysia and 227 Buddhist monks attended the ceremony.
A statement covering seven main topics was released today. The seven topics discussed include:
(1) Solving the crisis through the Buddha's teachings
(2) Legal sector
(3) Peaceful living for all the citizens
(4) Pursuance of the education sector
(5) News and information sector
(6) Coordination and negotiation of various organizations
(7) Counseling program
The statement urges the peaceful coexistence within the country, respecting the 1982 Citizenship Law, which supports peaceful coexistence in Myanmar.
The monks also urged the Buddhists in the country not to take part in the so-called "969" anti-Muslim movement. The figure represents the religion's holy trinity - Buddha, Dharma and Sangha.
The monks also issued a statement suggesting the government to rule the country in accord with the Buddhist teachings.
It also highlights doing research on the origins of Buddhism in Myanmar with confirmed data with the help of researchers. To include what made Buddhism disappear in some countries in the curriculum of the religious examinations is also suggested.
The statement proposes to launch a website for releasing the genuine information about Buddhism.
"Why we have this ceremony is because Buddhism has already been regarded as the most peaceful religion in the world. Yet, clashes happened. Buddhism is intentionally disgraced on the pretext of some miscellaneous matters. We will continue to seek peacefully ways to make known that Buddhism is a peaceful religion," said a famous venerable monk Ashin Cekainda.
The monk stressed that the violence could be handled thanks to the cooperation of the government and religious and social leaders. The attendees expressed the condolences to the families of the victims killed in Malaysia. Also, they applauded the kind assistance of local businesses to the Myanmar nationals in Malaysia so that they can return home.