Mon at Burmese-Thai Border Mark Historic Arrival of Buddhist Scriptures
By LAWI WENG, THE IRRAWADDY, September 19, 2013
RANGOON Burma -- Mon people on Thursday gave offerings and prayed in a festival to celebrate the story of a voyage by monks to Sri Lanka, which brought three Buddhist scriptures to southern Burma almost 1,000 years ago.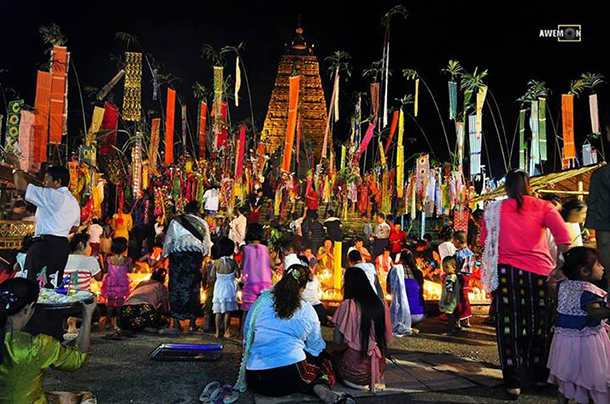 << Mon people gather on Thursday morning in front of a bamboo ship, which stands in front of a pagoda in Sangkhlaburi, in Thailand's Kanchanaburi province. (Photo: Awe Mon)
The Mon hold celebrations on the night of September's full moon each year. In Sangkhlaburi, in Thailand's Kanchanaburi province, ethnic Mon prayed in the early hours of Thursday to a large bamboo ship packed full offerings of food.
In Rangoon, about 100 Mon people also laid offerings and prayed at a bamboo ship to mark the celebration.
At the border, the people woke up early and went to a Buddhist monastery at about 4 a.m., carrying colorful banners with different patterns and flowers. Villagers wearing traditional red and white Mon dress offered plates with candles, noodles and rice, different fruits and sweets, before the boat was floated on a river.
1
The event, known as a yadaya chay, or "a superstitious ritual," is thought to influence the next monsoon season. If the bamboo ship is left untouched by rain—as happened yesterday—the monsoon will be dryer and crops will suffer.
The ritual, lasting about 2 hours, is known in the Mon language as Bor Kamot-Kaban, or "worshipping with food at the bamboo ship."
The celebration, which is unique to the Mon, has been held for at least 500 years.
The ritual recalls a tale from 1019 to 1020 A.D., during the rule of Mon King Dhamma Zedi. The king of the already Buddhist Mon people sent off monks on two ships, named Seittara Duta and Rama Duta, from his kingdom in southern Burma to Sri Lanka in order to study Buddhism.
Just one of the ships, the Seittara Duta returned carrying three scriptures in the Pali language, bearing teachings of the Buddha.
King Dhamma Zedi then had a ship built from bamboo and paper and loaded with a thousand offerings. This ritual, the story goes, helped Rama Duta return to port safely.