Late S.N. Goenka's ashes to be scattered in the Irrawaddy River, Myanmar
The Buddhist Channel, October 7, 2013
Yangon, Myanmar -- The ashes of the late Guruji S. N. Goenka arrived in Yangon today, 7 October at 2:00 pm by air from India.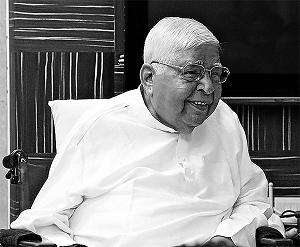 Announcements have been made that the ashes will be scattered at three locations in the Irrawaddy River in Myanmar.
First off, the ashes will be taken to the Dhammajoti Meditation Centre, Yangon in a special vehicle decorated with flowers. People will be allowed to pay tribute overnight.
The next morning, the ashes will be taken to Myit Kyi Nar (Capital City of Kachin State, Northern Myanmar) by air.
The first scattering is site will be at the Myit Sone (beginning point) of Irrawaddy River. On Wednesday (9 October), the remaining ashes will be taken to Mandalay, the birth place of Guruji and scattered into the Irrawaddy River at Mandalay.
On the evening of the same day, the remaining ashes will be brought back to Yangon for overnight public tribute in Dhammajoti Meditation Centre.
The final scattering would be on Thursday (10 October) morning at the entrance of Yangon River in Yangon by Myannandar boat.
Mata Elaichidevi, the widow of S.N. Goenka, will not able to accompany the ashes to Myanmar due to health problems.
Spiritualist and pioneer of Vipassana meditation in India, Goenkaji, died on September 30, 2013 at his residence in Mumbai due to old age. He was 90. He is survived by his wife Mata Elaichidevi and six sons.
Born and raised in Myanmar, Goenka started teaching Vipassana meditation in 1969 and followed it up with a meditation centre in Igatpuri, near Nashik, in 1976. He is widely credited as one who brought Vipassana meditation back to India.