Bill seeks to disallow Buddhist Myanmar women from marrying non-Buddhist men
InterAksyon.com, October 10, 2013
Yangon, Myanmar -- A bill has been filed at the Myanmar parliament seeking to disallow Buddhist Myanmar women from marrying non-Buddhist men, InterAksyon.com learned.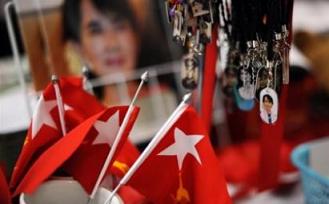 << Freedom icon Aung San Suu Kyi is seen to be affected by this bill disallowing Buddhist Myanmar women from marrying non-Buddhist men if it becomes a law. AFP FILE PHOTO
The A Myo Sount bill pushed by Buddhist leader U Wi Tu Ra seeks to imprison those who violate its provisions once it becomes a law. The bill is seen to affect some 28 million Myanmar women.
Some believe that the law will be used to disqualify opposition leader Aung San Suu Kyi from running in the next elections. Her British husband died in England while she was under house arrest in Myanmar.
The passage of the bill is pushed purportedly to protect Buddhist women, said Nang Pu, of a fledgling network of women's non-government organizations in Myanmar.
(Nang Pu was part of the We Are Wise campaign seeking to empower women in Myanmar. She was recently in the Philippines with three other compatriot women's rights advocates on a cultural and educational exchange with the Initiatives for International Dialogue.)
Over 30 women NGOs, including Chant Phut and the opposition party National League for Democracy, are opposing this draft law as it violates women's human right to choose, Nang Pu said.
They have also launched a signature campaign seeking to stop the bill from becoming a law.
According to the petition, the bill violates the United Nations' Universal Declaration of Human Rights, and is based on religious and nationalist extremism that negates women's right to individual freedom of choice.
The petition said it presupposes that Buddhism is so vulnerable that it cannot mingle with other religions.
"It insults the rationality of women," the petition said, warning against "dishonest tactics of cunning groups who are trying to impede the democratic transition."
Nang Pu said Buddhist Myanmar women married to non-Buddhist men are speaking up against the proposed law.
One of them, Daw Aye Mya, a women's representative from the Sanchaung Township in Myanmar, said she has been married to a Muslim man for 20 years and has four children with him.
"Our family is very peaceful and helpful," she said.
Daw Aye Mya said she and her husband "are fully mutual understanding each other especially in (matters of) religion, gender roles, traditional practices, and social work."
"If this law will pass at the parliament I will be in big trouble as the law will send me to jail. That's why I am strongly against this bill to pass," she added.
Since early 2012, the military junta ruling over Myanmar has started opening up the country to democracy. It has released a number of political detainees, including freedom icon Aung San Suu Kyi, who was also allowed to run for a seat in parliament.
However, the military maintains its grip on the country as it allots more than a majority of the parliament seats to military officials.