'They All Become Like My Children'
By KYAW HSU MON, THE IRRAWADDY, June 5, 2014
HO PONG, Shan State, Myanmar -- Daw Eainda Sar Ri, 62, has lived at the Thathana Kari Monastery in Bhamo, Kachin State, since she was 9 years old. Since last year, she has helped the children of internally displaced persons (IDPs) whose schooling was disrupted by fighting in Burma's north, taking them under her wing and providing them with a monastic education. The Buddhist nun and her school are also providing accommodation and food to the IDP children.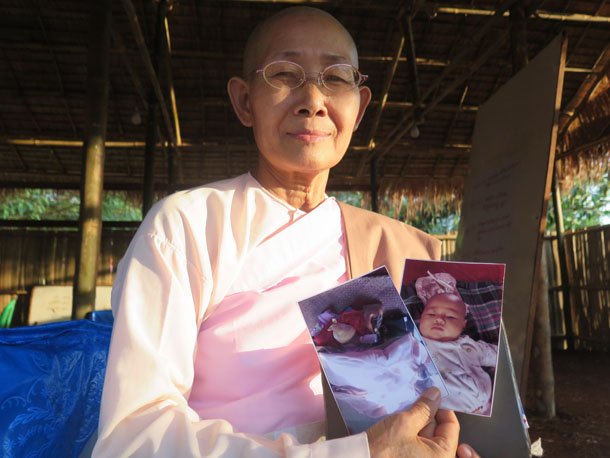 << Daw Eainda Sar Ri holds a 3-month-old baby that her monestary cares for in Bhamo, Kachin State. (Photo: Kyaw Hsu Mon / The Irrawadddy)
The Irrawaddy met with Daw Eainda Sar Ri while she was attending a monastic education seminar in Ho Pong, Shan State, last week, to discuss her role in helping the girls learn amidst hardship.
Question: Who are you helping in Bhamo Township? How many students are there at your school?
Answer: Here many ethnic Palaung children are living around my school. Their parents are working in the brick-making industry. They are poor, so we're helping to educate their children. I'm providing them with stationery for their schooling. There are more than 30 IDP children, I've opened the school up to them.
Palaung children can't speak Burmese, and they have been beaten frequently by their teachers for that. Now, gradually, they have learned to read and write [in Burmese]. There are 205 primary students who are living at my school, 34 middle school students and 13 high school students, as well as two university students.
Q: How many IDP children have come to your school from conflict areas?
A: Since last year, many IDP children have come to my school. It's about a one-day trip from conflict areas to my school. There were 28 children who came here last year and 17 this year. Parents who have fled from conflict areas send their children to this school. They said that it [being displaced] is no problem for them, but that they worry for their children and want them at my school for the sake of their futures.
Q: How are you helping them? Are you also taking in orphans?
A: All are included—orphans, some have their father, some have only their mother. Most IDPs are Palaung. They came here from Nant Lwe [Man Wain Gyi] in Kachin State. Their villages have almost been destroyed due to civil war.
Q: How do you help these children—some of whom were living in active conflict zones—to regain a sense of normalcy in their lives?
A: We provide food, accommodation and clothes, all these things are our responsibility. They all become like my children. I support them in any way I can and I advise their parents not to take them back [to their former villages].
Q: How old are they?
A: Normally, they are girls from 4 years old to 13 years old. Like my school, some other schools are also accepting them.
Q: Are the IDP children and non-IDP children living together in the same compound?
A: Yes, they are living together.
Q: What difficulties do you have in caring for them under the circumstances? There must be religious and cultural differences.
A: All of them become Buddhists after they reach out to the school. They always pray three times a day, and then everything becomes easy for them.
Q: How do you manage to feed all those mouths?
A: I receive rice donations from residents every weekend. I've received some other rice bags, beans and other kitchen materials from donors. I can't even calculate how much I spend for them every day.
Q: What do you want for these children's futures?
A: I want them to receive a degree and expect them to become educated. I will support them as much as we can. If they want to become a nun, I will welcome them. If not, they can do as they like.