Buddhist Group Comes Under Fire From Myanmar Politicians, Activists
Radio Free Asia, Sept 25, 2015
Yangon, Myanmar -- Politicians and activists in Myanmar have criticized an influential Buddhist national group for holding large public gatherings across the country to celebrate the passage of a set of four controversial laws, fearing the intermingling of religion with politics ahead of the Nov. 8 general elections in a country that has suffered major inter-religious violence in recent years.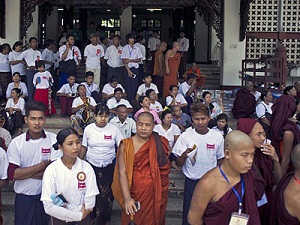 << Buddhist monks and others attend a Ma Ba Tha event at a monastery in Yangon, Sept. 14, 2015. Credit: AFP
The Association for the Protection of Race and Religion, better known by the acronym Ma Ba Tha, has hosted rallies among tens of thousands of its supporters in recent weeks to call attention to the passage of the Race and Religion Protection Laws ahead of ahead of Myanmar's Nov. 8 general elections, which the opposition National League for Democracy (NLD) party is expected to win.
Its members have been making increasingly political comments at the rallies across the conservative and predominantly Buddhist country and playing on religious tensions that arose during and after violent riots between Muslims and Buddhists in western Rakhine state in 2012. The riots left more than 200 people dead and 140,000 displaced in government-run camps.
Earlier this year, authorities took away the voting rights of thousands of Rohingya Muslims after parliament banned people without full citizenship from participating in the elections. And Myanmar's Union Election Commission (UEC) has largely excluded Muslim candidates from the upcoming elections based on their failure to meet citizenship requirements.
Politicians from parties other than the ruling Union Solidarity and Development Party (USDP) say religion should be left out of political campaigns.
"In Myanmar, monks can or will say whatever they think is right," said Khin Maung Swe, chairman of National Democratic Force.
"The important thing is for political parties not to include religious issues in their campaigns," he said.
Zaw Win, chairman of Kaman National Progressive Party, said the government or other authorities should take action against Ma Ba Tha if its members speak out against existing laws.
"They haven't done anything to Ma Ba Tha members, so it means they believe that Ma Ba Tha is operating according to the law," he said, hinting at the government's tacit support for the monk group.
Aung Moe Zaw, chairman of Democratic Party for a New Society, said the issue was complicated and sensitive, because Ma Ba Tha members have been urging people not to vote for candidates opposed to the four nationalistic laws.
"I think that they are saying that intentionally to a particular political party or a political leader," he said without mentioning any specific candidate or party.
The four laws passed this year, are perceived to target Muslims, because they restrict interfaith marriage, polygamy and religious conversion and address unbalanced population growth.
The NLD filed formal complaints against Ma Ba Tha on Wednesday, charging that the group was using religion to influence voters before the elections in contravention of the country's election laws, the online journal The Irrawaddy reported.
Rights activists indicate that Ma Ba Tha is receiving favorable treatment from authorities who must grant permission to groups to hold public gatherings and rallies.
They point out that many authorities forbid smaller groups, such as worshippers and students who meet in classroom to host small film festivals, to hold such gatherings.
Activist and lawyer Kyaw Htay, who is representing some of the student activists jailed earlier this year during a protest over education policy that turned violent in the town of Letpadan, noted that authorities have arrested some small groups of less than five people praying at pagodas as well as students and jailed them under Article 18 of the Peaceful Assembly and Peaceful Procession Law.
"We have been seeing events, such as Ma Ba Tha events and people's gatherings to encourage the president [Thein Sein] to run in the next elections, but authorities don't arrest and charge those people," he told RFA's Myanmar Service.
Yet, students were arrested and charged after the protests against National Education Law, although they had received a promise from government representatives that authorities would not arrest them, he said.
"In Myanmar, authorities take action against people they want to take action against, but don't do this to people they don't want to take action against," Kyaw Htay said. "We can't solve these problems unless we can amend the 2008 constitution which was written by the military government."
Arkar Moe Thu, a university student and member of the National Network for Educational Renewal, agreed that education authorities and local administrative officials do not grant permission to students to hold small events on campus, while Ma Ba Tha was being allowed to host rallies based on a contentious issue.
"Most people in Myanmar have become sensitive about religion," he said. "We are concerned about having problems because religion is becoming involved in politics. Seeing these signs [at Ma Ba Tha's events] are barriers to moving forward with democracy in the country."
Rallies 'serve as a warning'
Ashin Parmaukkha, a Ma Ba Tha leader, said the monk group has had to apply for permission with local police stations to hold its rallies.
Representatives from the group have had to fill out forms detailing the location of the rallies, names of speakers, slogans, number of posters and the number of people expected to attend, he said.
"We are holding victory ceremonies because the nationalistic laws were passed, although we faced many difficulties in making that happen," said Ashin Wirathu, a Ma Ba Tha monk. "We are also holding these events to show people that we have a lot of members who support Ma Ba Tha. It will serve as a warning for people who try to attack these laws."
Earlier this week, Ma Ba Tha delivered the same message to thousands of supporters in Pohbba Thiri township in the capital Naypyitaw and Lashio in northern Myanmar's Shan state.
"We thank and need to honor the president, members of parliament [MPs], Ma Ba Tha monks and other people who supported the passage of the four nationalistic laws," said Kattithara, the group's secretary.
"People [candidates and MPs] who didn't support the four nationalistic laws when the legislation was discussed in parliament will definitely try to abolish these laws if they win the elections,' he said "That's why we need to vote for candidates who will protect the nationalistic laws and not elect ones who will abolish them."
------------
Reported by Khet Mar, Myo Zaw Ko, Win Naung Toe and Win Ko Ko Lat for RFA's Myanmar Service. Translated by Khet Mar. Written in English by Roseanne Gerin.