Last rites performed for the late Sayadaw U Pandita
The Buddhist Channel, April 21, 2016
Yangon, Myanmar -- The last rites ceremony for the late Sayadaw U Pandita who passed away in Bangkok on April 16, 2016 was carried out yesterday at the main Dhamma Hall of Shwe Taung Gon Sasana Yeiktha.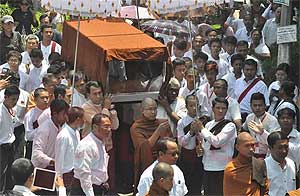 << The funeral procession heading out to Sayadaw U Pandita's final resting place, the Hse Main Gon Forest Centre, in Phyu Kyaung Village, Bago province.
Local and foreign yogis in thousands have come from all over Myanmar and elsewhere to pay their last respects to one of the most venerated Dhamma teachers.
The memorial ceremony which began at 8.30 am local time was presided by the Chair of the National Sangha Nayaka Organization, Bhante Dr Bhaddhanta Kumarabhivamsa. The chanting sessions was followed by a reading of the late Sayadaw's biography by Bhante Bhaddanta Nandasiri, Sayadaw of Nigrodharama Meditation Centre, Malaysia.
After the offering of dana, a Dhamma talk was given by Sayadaw Bhaddanta Tilokabhivamsa, the Main Nayaka of Insein Ywa Ma Centre for Scriptural Studies.
At 12.30 pm, the ceremony for the commencement of transportation of the late Sayadaw U Pandita's remain began. Sayadaw Ashin Vannissara from Panditarama Shwe Taung Gon Sasana Yeihtha Nayaka Pyin Oo Lwin, led the congregation for request of forgiveness from Sayadaw U Pandita, for any wrongs that they may have committed while he was alive.
Bhante Bhaddanta Nandasiri then proclaimed the request for Sayadaw U Pandita to reside at his final resting place, the Hse Main Gon Forest Centre.
At 1 pm, the late Sayadaw's body was then placed in a hearse, where the funeral procession was to proceed for about 60 km north of Yangon, towards Phyu Kyaung Village in Bago, where the Hse Main Gon Forest Centre is located.
On Friday, April 22, 2016, cremation of Sayadaw's remains will take place at 1 pm, at Hse Main Gon Forest Centre.