Buddhist Authorities in Myanmar Warn Outspoken Monk to Adhere to Ban on Public Sermons
by Kyaw Thu, RFA's Myanmar Service, March 20, 2017
Yangon, Myanmar -- Religious authorities in Myanmar's Mandalay have warned the outspoken and controversial leader of an ultranationalist Buddhist movement to not give sermons under a one-year ban on making public speeches because of his repeated hate speech and anti-Muslim rhetoric, a religious official said Monday.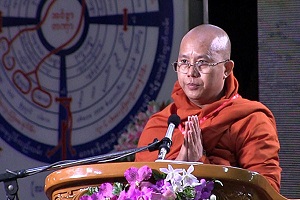 << Wirathu, vice chairman of Myanmar's ultranationalist Ma Ba Tha Buddhist movement, stands silently behind a lectern in Mandalay, March 2017.
RFA
The Mandalay Sangha Maha Nayaka Committee informed Wirathu, vice chairman of the Ma Ba Tha Buddhist organization, that if he does not follow an order issued by the State Sangha Maha Nayaka (Ma Ha Na), it will take action against him, committee secretary Razeinna told RFA's Myanmar Service.
The State Ma Ha Na is a government-appointed body of high-ranking Buddhist monks that oversees and regulates the Buddhist clergy in Myanmar.
On March 10, the Ma Ha Na barred Wirathu, who frequently speaks out against Muslims, from making public speeches for one year because he "repeatedly delivered hate speech against religions to cause communal strife and hinder efforts to uphold the rule of law," according to a statement issued by the religious body.
The statement did not state what punishment he would receive for violating the ban.
"We called U [honorific] Wirathu and read him the order from the State Sangha Maha Nayaka Committee's order and asked him to sign that he is aware of it because he said he didn't know the committee had banned him from making sermons," said Razeinna.
"We told him that we will take action against him if he doesn't follow the order from the State Sangha Maha Nayaka," he said.
After the ban was issued, Wirathu attended sermons in Ayarwaddy and Mandalay regions and northern Myanmar's Kachin State where he stood with his mouth taped shut in protest against the order.
Ma Ba Tha has called the ban on sermons unconstitutional and has demanded an explanation for the decision.
Wirathu supporter's defamation lawsuit
In a related development, a Yangon resident has filed a defamation lawsuit against the chief editor of the independent online news service Myanmar Now, a lawyer representing the journalist told RFA on Monday.
Thet Myo Oo filed the lawsuit against Swe Win at Kyauktada Township court under Section 295(a) of Myanmar's Penal Code, said Khin Maung Myint, Swe Win's lawyer.
Section 295(a) prohibits "deliberate and malicious acts intended to outrage religious feelings of any class by insulting its religion or religious beliefs."
The court has referred the case to the township police station to investigate, Khin Maung Myint said.
Swe Win faces a maximum of three years in prison if convicted.
In a Feb. 28 Facebook post, Swe Win criticized Wirathu for praising the brutal murder of Ko Ni, a prominent Muslim lawyer and critic of Myanmar's powerful military, accusing him of committing "a major violation of parajika [the Buddhist monastic code]."
Wirathu demanded an apology from Swe Win within seven days, and Kyaw Myo Shwe, a Ma Ba Tha member and follower of Wirathu, filed a lawsuit under Article 66(d) of the Telecommunications Law, accusing him of defaming the monk.
Article 66(d) prohibits use of the telecom network to defame people and carries a jail sentence of up to three years and a fine for those who violate it.
Kyaw Myo Shwe withdrew the complaint earlier this month after being pressured by his family to do so.
Now Kyaw Myo Shwe himself is being sued for defamation under Article 66(d) by a woman who claims he posted insulting comments about Myanmar's de facto leader Aung San Suu Kyi on his Facebook page.
Kyaw Myo Shwe faces a maximum of three years in prison if convicted.
At least 43 cases have been filed under Article 66(d) since March last year, when the current government came to power.
----------
Reported by Kyaw Thu for RFA's Myanmar Service. Translated by Khet Mar. Written in English by Roseanne Gerin.