Rakhine Protesters Demand UN Protect Buddhist Chakma in Bangladesh
By Moe Myint, The Irrawaddy, 15 June 2017
YANGON, Myanmar -- The Arakan National Party (ANP) led 300 people, including Buddhist monks and local Arakanese, in a protest outside the UN offices in Maungdaw Township, Rakhine State on Wednesday, urging the agency to protect the Buddhist minority Chakma in Bangladesh.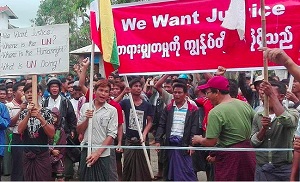 << Rakhine demonstrators outside the UN offices in Maungdaw Township demand action on behalf of the Chakma in Bangladesh on Wednesday. / Alladin Maungdaw
Police Maj Kyaw Mya Win confirmed that the demonstration was granted permission by the authorities to proceed and that the rally participants went to the office of the United Nations High Commissioner for Refugees (UNHCR), located on the outskirts of Maungdaw Township, which shares a border with Bangladesh.
The demonstrators held signs written in English, stating: "We want justice! Where is the UN? Where is the human right? What is UN doing?"
The Chakma are locally known in Myanmar as ethnic Thet, a Rakhine sub-ethnicity also recognized as an indigenous tribe in Bangladesh.
Police Maj Kyaw Mya Win told The Irrawaddy on Thursday that hundreds of Chakma homes in Rangamati Langadu in the Chittagong hill tracts were set on fire on June 2 by a mob made up of members of the Bengali majority. One 75-year-old woman was killed, 300 houses destroyed, and hundreds of people from three villages were displaced.
The arson followed the June 1 murder of Bengali motorcycle taxi driver Nurul Islam Noyon, who was also reportedly an activist, according to the Dhaka Tribune. Rumors immediately circulated that Chakma men were responsible for Noyon's death, erupting in the burning of the homes of ethnic Chakma in the area. Locals described the mob violence as "communal," but noted that it had appeared law enforcement did little to halt it.
Buddhist Arakanese from Maungdaw now say that the Bangladesh-based branch of the UNHCR should encourage authorities to prevent further violence against the Chakma, and protect them within existing legal frameworks.
Last week, Myanmar's Union Solidarity and Development Party and 16 Rakhine civil society organizations released a joint statement demanding that the UN provide mediation to prevent attacks on the Chakma in Bangladesh, and to urge authorities to take action against the perpetrators.
In response to the conflict, the Bangladeshi police have prohibited large gatherings in the region and have arrested seven individuals in connection with the acts of arson; 400 have been reportedly charged, and a three-member team has been formed to probe the incident.
Atul P. Chakma, a resident from Arunacha town, near Rangamati, told The Irrawaddy that several Chakma civil society organizations will continue to protest against the authorities, demanding that they take action against the attackers.