Religion minister refuses to resign, pledges to 'purify' Buddhism
Coconuts Yangon, Jun. 29, 2017
Yangon, Myanmar -- Religious and cultural affairs minister Thura U Aung Ko told reporters in Naypyidaw yesterday that he will not give in to demands to resign, saying: "I was not appointed by [nationalist protesters], but by the leader democratically elected by the people."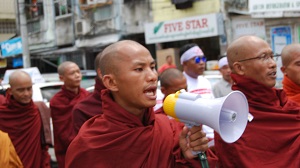 << Buddhist monks participate in an anti-Rohingya protest in 2015. Photo: Jacob Goldberg
Hundreds of Buddhist nationalists staged a protest in Naypyidaw last month, where they accused the minister of favoring Muslims over Buddhists. They also demanded the lifting of a preaching ban from anti-Muslim monk Wirathu, the enactment of a plan to protect Buddhism, and an apology from the minister.
The minister's critics staged similar protests in Yangon and Mandalay on June 25 to demand his resignation.
Thura U Aung Ko said he will work with the State Sangha Maha Nayaka Committee, Myanmar's highest Buddhist clerical body, to penalize people who claim to represent Buddhism while violating its doctrines.
"Both monks and laypeople have said Buddhism must be purified," he told reporters.
Hardcore Buddhist nationalists have made the minister a target after his ministry banned Wirathu from preaching for a year starting last March and outlawed the Buddhist supremacist group Ma Ba Tha in May.
While they accuse the minister of neglecting Myanmar's Buddhist community, Thura U Aung Ko has also come under fire from Christians for failing to stop Buddhist nationalists from building pagodas on church property in Kayin State, and he also courted the ire Myanmar's Muslims when he referred to them as "visitor citizens".