Myanmar clamps down on Buddhist nationalism
Asia News Network, December 30, 2017
Yangon, Myanmar -- In a further sign that Myanmar is clamping down on the spread of ultra-nationalist Buddhism, six monks have been sentenced to 18 months' hard labour for leading an anti-government protest in Mandalay.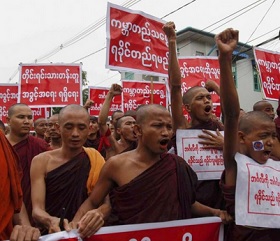 The ruling on Wednesday comes days after abbot Parmaukkha, a founder of the ultra-nationalist Ma Ba Tha movement, was denied bail after being jailed for violating the same Peaceful Assembly Act with a protest at the US Embassy in Yangon.
Parmaukkha was protesting the use of the word "Rohingya" to describe the Muslim minority targeted by a brutal military crackdown that has seen more than 650,000 flee Rakhine state since August.
The monks-led Ma Ba Tha is behind a rising tide of anti-Muslim sentiment in Myanmar. The movement has held regular anti-government protests and called for support of the military-backed USDP party – the only viable rival to Aung San Suu Kyi's ruling National League for Democracy.
Last month Ma Ba Tha's own bid to become a political party was rejected by the Union Election Commission. The commission said some of the group's members were not in compliance with the Political Parties Registration Law.
Ma Ba Tha grew out of 969, which was established in 2012 to organise boycotts of Muslim-owned businesses. In 2013, 969 members rebranded it as the Association for Protection of Race and Religion, commonly known by its Burmese acronym Ma Ba Tha.
Tensions between Ma Ba Tha and the government erupted in 2016 when Yangon Chief Minister Phyo Min Thein described the group as "unnecessary". The national monastic authority (Sangha) has since said Ma Ba Tha is not a "lawful monks' association" as "it was not formed in accordance with the country's monastic rules".
Ma Ba Tha has since accused the government of favouring Muslims and failing to protect Buddhism. Leading member Wirathu was branded "The Face of Buddhist Terror" by Time magazine for preaching anti-Muslim sermons.