Regime using Buddhism for propaganda purposes, monks say
Asia News, Dec 13, 2004
Yangon, Myanmar -- Many delegations stay away from World Buddhist Summit in Yangon to protest against regime. At least 400 Buddhist monks are jailed sentenced to 15-20 years.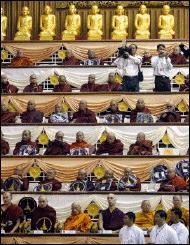 The military junta is using Buddhism as a propaganda tool, this according to monks and analysts after the Fourth World Buddhist Summit ended in Yangon. Despite repeated threats of boycott, Myanmar?s military was able to host the event.
Isolated internationally for its many human rights violations, the military regime focused on the event which official media described as a ?landmark in the history of Buddhism?.
Official newspapers carried photos of junta members appearing with Buddhist leaders or making generous donations for the upkeep of pagodas.
Almost 90 per cent of Myanmar?s 53 million are Theravada Buddhist.
Senior General Than Shwe, head of the ruling State Peace and Development Council, made a rare public appearance on Thursday, trading his habitual army uniform for a traditional white tunic and longyi (loincloth) to welcome dignitaries.
Other top military brass tried to appear connected to the people who, although poor, make generous donations for the upkeep of monasteries and the building of pagodas, and most of whom at some point become novices or monks.
The reality is quite different. The regime does not allow monks to practice and worship their religion freely. ?They [monks] are totally controlled. They are obliged to be on the side of the regime,? a diplomat said.
?When Aung San Suu Kyi?leader of the main opposition party, the National League for Democracy?went into the provinces after her release, certain temple abbots refused to receive her? for fear of being harassed by military intelligence officials, the diplomat said of the Nobel peace laureate?s short period of freedom. Currently, Ms Suu Kyi is under house arrest.
Monks and nuns do not play a socially active role in the political life of the country, primarily devoting their time to the study of sacred texts and meditation in their monasteries.
?They are given gifts to encourage them to remain calm and not get involved in politics: money and cars,? said one analyst. ?The Buddhist clergy has been completely bought,? he added.
Monks who dare to criticise the regime end up in prison and are almost immediately defrocked.
According to a secret association of monks, about 400 monks are currently being held in Myanmar prisons. A superior monk, who declined to give his name, acknowledged there were many monks in prison even as the regime hosted the Buddhist summit.
In prison, the monks ?are disrobed, have to wear the prisoners' uniform and aren't allowed to chant or meditate,? he said. ?Many have been sentenced to 15 to 20 years, which are often extended when they refuse food offerings from government officials.?
"We can't express our opinion or speak openly to the people. There are pressures. Sometimes, we feel we are being watched,? he stressed.
According to another senior monk, ?monks have no interest in this Buddhist summit: it isn't a genuine summit. It has been organised for the political benefit of the regime?. He added that the secret group sent letters to monasteries urging them to boycott the event.
Sayadaw (superior monk) Ashin Nanisara had to flee Myanmar after criticising the regime in 1988, but was allowed to return on the condition of backing the Buddhist summit.
Some 1,500 people?monks and government officials?took part in the three-day summit. However, various international Buddhist groups stayed away, among them Japan?s Nenbutsushu. The Japanese Buddhist sect, promoter and backer of the First World Buddhist Summit, refused to attend the meeting to protest against the removal of former Myanmese Prime Minister Khin Nyunt in October.