Myanmar soldiers fire shots in air to break up Buddhist monks' protest, exile media report
The Associated Press, September 5, 2007
YANGON, Myanmar -- Hundreds of Buddhist monks held an anti-government protest march in central Myanmar, stopping their demonstration only after soldiers fired warning shots and arrested several of them, media reports and a witness said.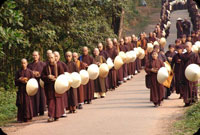 << Buddhist monks have always led the protests against oppression.
Details of the protest Wednesday in the town of Pakokku were reported by opposition media in exile and the U.S. government-funded Radio Free Asia.
A resident of the town contacted by phone confirmed that the monks held a protest and that it broke up after gun shots were heard.
The demonstration added a new dimension to three weeks of scattered protests against the high fuel and consumer goods prices. The protests had started lagging in the face of fierce government repression, and most still taking part were committed activists. It was the first time that guns were reportedly used in suppressing the current round of protests.
Myanmar's government has detained scores of activists and used gangs of hired thugs to suppress the rare wave of protests, triggered by fuel price hikes last month of as much as 500 percent
Monks were at the forefront of protests against British colonialism and military dictatorship, but have been kept on a tight leash by the current junta, which took power after violently quashing mass pro-democracy demonstrations in 1988.
Radio Free Asia said 300 monks joined the march in Pakokku, which sits on the Irrawaddy River, while the Democratic Voice of Burma, an exile-run shortwave radio station based in Norway, said on its Web site that they numbered 600. Mizzima News, an online news service run by Myanmar exiles in India, said 500 monks took part.
All three news services have reported extensively on the recent protests, and their reports have generally proven accurate, although with numbers sometimes exaggerated.
According to Radio Free Asia, the monks carried placards protesting high prices and calling for political prisoners to be released. All three agencies said soldiers were sent in to stop the demonstrations and fired warning shots into the air, before arresting participants. The arrests were accompanied by beatings, they said.
Democratic Voice of Burma quoted a monk as saying their economic situation was so dire that they could not even afford razors to shave their head, as monks are supposed to do.
"We can't sit back and watch the people who sponsor us sink into poverty. Their poverty is our poverty as well," the unidentified monk told the radio station.
No public protests have been reported in Myanmar's main city, Yangon, for more than a week, though they have been continuing sporadically in other towns, with one involving as many as 1,000 people reported Wednesday in Bogalay, a town in the Irrawaddy delta 130 kilometers (80 miles) south of Yangon.
The report, by the opposition National League for Democracy party, could not be independently confirmed. Many of the protests in the past week have involved a handful of people, in one case two men standing at a marketplace with placards. NLD spokesman Nyan Win said the head of the party's local chapter, who organized the protest, was later detained.
Also Wednesday, leaflets urging U.S. and British diplomats to stop supporting pro-democracy protests in Myanmar were left at their embassies, warning they should cease their interference or be driven out.
The junta and the state-controlled press have frequently accused the U.S. and Britain of colluding with pro-democracy activists in efforts to oust the government. Both nations have imposed economic and political sanctions against the junta because of its poor human rights record and failure to hand power to a democratically elected government.