Putting Compassion into Action
By KYAW ZWA MOE, The Irrawaddy, JULY, 2008 - VOLUME 16 NO.7
Do Burmese people really understand the meaning of compassion? Not according to a prominent Buddhist monk who has taken a leading role in Cyclone Nargis relief efforts
MAE SOT, Thailand ­ -- "HOW did you feel when you heard that people were homeless, that monks had lost their monasteries and had nowhere to stay? Over 130,000 people were killed and 2.4 million suffered badly. How did you feel?"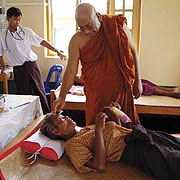 << A patient is comforted by Sitagu Sayadaw in a clinic in the Irrawaddy delta.
The monk who asked these questions paused and looked at his audience of around 3,000 people at the Tawya Burmese monastery in the Thai border town of Mae Sot, opposite Myawaddy.
He continued: "If you felt concerned and afraid for them, that's good. It means you have compassion."
But before anyone could take too much satisfaction in that thought, he added: "That's good, but it's not good enough."
The speaker was Dr Ashin Nyanissara­better known as Sitagu Sayadaw [abbot]­one of Burma's most respected monks. He was in Mae Sot in late June to give a dhamma talk on compassion­and to ask the local Burmese community, estimated to be tens of thousands strong, to support relief efforts in the Irrawaddy delta, where millions still struggle in the aftermath of Cyclone Nargis.
Since the cyclone struck on May 2-3, Sitagu Sayadaw has been rallying his followers to come to the assistance of their compatriots in the delta and the former capital, Rangoon, which also suffered substantial damage.
His message was simple: Compassion is important, but it doesn't amount to much unless it is accompanied by action.
"If you lack compassion, you will be an irresponsible person," the 71-year-old abbot told his attentive audience, who were seated both inside the monastery's main building and outside on the ground.
"But compassion in mind and in words alone won't help the refugees in the cyclone-affected area," he added. "Such compassion won't bring food to people in need."
Back in Burma, he has been busy practicing what he preaches. Soon after the cyclone hit, the Sitagu International Buddhist Missionary Center, founded by the abbot in 1980, began transporting relief supplies to affected towns and villages in the Irrawaddy delta by road and on boats.
"We visited villages from Bogalay to Amar. Then we crossed the river to Ka Don Ka Ni," he said during an interview, pointing to a map of the area in a back issue of The Irrawaddy. "After that we went back to Bogalay, visiting villages on the other side of the river."
What he witnessed in the disaster area affected him profoundly and moved him to take further action. "When I saw my own people and monks suffering terribly, I felt like my heart was being stabbed by hundreds of needles," he said.
Less than a week after the disaster, the Sitagu International Buddhist Missionary Center established emergency relief centers and clinics in Ka Don Ka Ni, Amar, Set San and Kunthi Chaung, which were among the worst-hit villages in the delta.
Over the following month, it also donated aid to 1,344 monasteries in the region. Each monastery received metal sheets for repairing roofs and between 100,000 and 1 million kyat (US $85-850) in cash, according to a detailed list of expenditures compiled by the missionary center.
The center also donated cash and various necessities, including food, medicine, clothing, mosquito nets and cooking utensils, to refugees in 900 villages in six townships. More than 300 trucks were used to distribute the supplies.
With funds supplied by domestic and international donors, the center also provided $150,000 in cash and medical equipment­from operation beds to ultrasound and ECG machines­to three government hospitals.
One local NGO worker returning from Bogalay attested to the help that refugees had received from Sitagu Sayadaw and to their respect for the abbot. He also contrasted the commitment of the missionary monks with the contribution of others who have taken part in the relief effort.
"Volunteers can rarely be seen two months after the cyclone," he said, speaking on condition of anonymity. "The only force left is the monks."
Although the authorities have forced many refugees to leave the monasteries that provided them with food and shelter in the weeks after the cyclone, the monks have continued to play a major role in distributing aid.
Unlike other volunteers, who are often barred from entering the disaster zone, monks, especially respected ones like Sitagu Sayadaw, are still free to travel to the area to carry out relief work.
A number of other prominent monks, including Mizzima Gon Yi Sayadaw and Dhamma Sedi Sayadaw from Mandalay Division and Shwe Nyawa Sayadaw from Rangoon, have also been active in aiding cyclone refugees. They have not only received donations, but have also delivered aid directly to those most in need.
A senior monk from Shwe Nyawa Monastery said that a group of monks, physicians and volunteers from his monastery has been traveling around Laputta Township in a two-tiered ship outfitted with medical equipment and supplies. Their mission, he said, is to assist sick and injured cyclone victims and perform religious rites for the deceased.
Private donors have given generously to these projects, which have reached many refugees who have yet to receive any aid from the government or international relief agencies. Indeed, many people prefer to make their donations through monasteries, which command greater trust and respect than official institutions. This has been especially true since September 2007, when monks led protests against the ruling regime on behalf of ordinary people suffering from deepening economic hardship.
Despite the growing willingness of people to contribute to social projects, Sitagu Sayadaw said that most Burmese still lack an adequate understanding of the meaning of compassion.
As the abbot explained in an interview with The Irrawaddy, most Burmese are more interested in religious merit than social merit. This, he said, reflected the beliefs of Theravada Buddhism, which traditionally emphasizes the importance of meditation as a means of acquiring merit. Mahayana Buddhism, on the other hand, focuses on serving others as a part of spiritual practice, he said.
"Meditating in a room with the doors shut won't help the [cyclone] victims suffering over there. But most Burmese who traditionally believe in Theravada don't appreciate the need for compassionate action," he said. "That is why I am talking about it to people everyday. It is essential to make social merit stronger."
Sitagu Sayadaw said that the government was not alone in responding too slowly to the suffering caused by the cyclone: The whole country failed to put its compassion into action. "We can't blame the government alone," he said.
This assessment may seem surprising given the role of volunteers and private donors in the relief effort. But these people represented only a small fraction of the country's population, the abbot said, adding that the country's people failed to mobilize on the scale that the disaster required.
Although Burmese privately profess the need for compassion, the society as a whole has never evolved a mechanism to prevent unnecessary suffering, he said.
"When we talk about underdeveloped countries, we mean that they are underdeveloped materially, spiritually and intellectually," the abbot said. "Such countries suffer a lot when disasters strike. In fact, our whole country and its whole system are underdeveloped."
The key to developing the country, he said, is to build what he called a "compassionate common platform." To do this, each person must learn to think beyond narrow self-interest and recognize that the needs of others are equally important.
"Look at the word 'success.' If you take out 'u' [you], there can be no 'success,'" he explained. "But most Burmese think, 'I can do everything myself. I don't need you.'"
This is true both in the lives of individuals and in the histories of nations, he said. "The suffering in Burma, the killing in Iraq and Afghanistan, the killing fields in Cambodia­all of these have come from selfishness. All man-made disasters are driven by that selfishness.
"People need to think about what others need and what they can do for them. Only then can they work together for the common good."
The abbot criticized his fellow Burmese for their lack of teamwork, which he said showed they could not see beyond their own needs. "Teamwork is not traditionally valued in Burma. This is why the country is always facing collapse," he said.
"Burmese people worship heroes," he said, pointing to the country's historical reliance on charismatic figures as sources of national unity. "When King Anawrahta (1044-77) was gone, his empire collapsed.
After King Alaungpaya (1760-64) died, the same thing happened again," he said, noting example after example of the same pattern in Burmese history.
The democratic opposition is also in danger of falling victim to this trap, he added. "Look at the National League for Democracy. Without Aung San Suu Kyi, it could just disappear."
Instead of leading the country towards democracy, the leaders of the movement have succumbed to the Burmese propensity to go their own way rather than compromise, he said.
"The pro-democracy movement has disintegrated into thousands of small groups since 1988, because pro-democracy groups have not been able to find a common ground. That is one of the fundamental reasons we Burmese are suffering today."
By teaching people to see the bigger picture, religious leaders can repair some of the damage done by the blind pursuit of self-interest. But they can only achieve this if they reach out from their churches, temples and mosques to work together for the sake of the people, the monk said.
In Burma, a further obstacle to this vision of a social movement guided by religious principles is the ruling regime's distrust of any form of organized activism. But Sitagu Sayadaw remained cautiously hopeful.
"If the government understands that religious leaders are working for the welfare of the country, it will allow them to work together. But if they think those religious groups will attack or criticize the government, it will not.
"And then we will never have harmony," he said.
Irrawaddy correspondents Aung Thet Wine and Kyi Wai contributed to this article from Rangoon.