Shoddy work blamed for Myanmar pagoda collapse
Associated Press, June 3, 2009
Yangon, Myanmar -- Myanmar's government said Wednesday that the deadly collapse of an ancient pagoda under repair was the result of shoddy and rushed reconstruction work.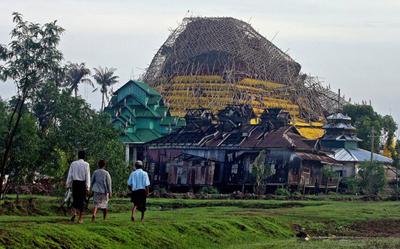 << The rubble of Danok Pagoda after its mysterious collapse on Saturday (Photo: Getty Images)
State television reported that a preliminary investigation determined the causes of the accident at the 2,300-year-old Danok Pagoda.
The report said the collapse killed two workers and injured 34, including 26 military personnel.
The accident at the temple, located 13 miles (about 21 kilometer) south of Yangon, occurred Saturday afternoon while repair work was being done to its stupa, a tall, bell-shaped structure that is the centerpiece of most Buddhist temples.
It was the first report on the accident in the country's state-run media. Overseas Myanmar media, mostly unsympathetic to the country's military government, had already reported on the accident and rumors that the death toll was as high as 20.
Military personnel often work on public projects in Myanmar.
Villagers from nearby communities were also assisting in the repair effort.
On May 7, the wife and family members of the leader of Myanmar's junta, Senior Gen. Than Shwe, attended a religious ceremony at the temple during which a diamond orb was placed atop the structure. The orb fell to the ground during the collapse.
It is not immediately clear if the orb, Buddhist relics and other precious ornaments kept inside the stupa have been retrieved.
The TV report said the preliminary investigation indicated that the accident was due to poor quality workmanship as well as structural flaws. It said another reason for the accident was that construction work had been done in haste because some of the people who donated for the repairs wanted the project completed before seasonal heavy rains.
Myanmar has thousands of ancient pagodas at Buddhist temples
throughout the country. Some have suffered major damage due to
earthquakes that periodically hit the region.