Thailand: Interest falls in nun enrolments
The Bangkok Post, Apr 4, 2011
Bangkok, Thailand -- The country's first and only college for Buddhist nuns has suffered a discouraging setback, with only 20 prospective students applying to join the institution this academic year.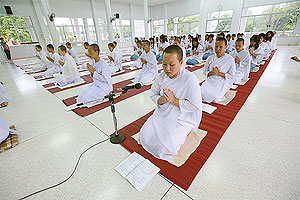 << Nuns at Mahapajapati Buddhist College in Nakhon Ratchasima's Pak Thong Chai district undertake a prayer session as a part of their training programme. LAMPHAI INTATHEP
Thanyamas Netenoi, 30, a teacher of academic affairs and a Buddhist nun, said this represented only a tenth of the college's capacity.
Established 13 years ago by the late Khunying Kanitha Wichiencharoen, the Mahapajapati Buddhist College (MBC) under the Supreme Patriarch has offered bachelor degrees in Buddhism to nuns and other women.
Students are also taught other academic disciplines, similarly to those offered in mainstream universities.
Located in Nakhon Ratchasima's Pak Thong Chai district, the college has provided Buddhism education at the faculty of Buddhism and philosophy, and Buddhism teaching at its faculty of education.
The college's curriculum is set by Ma hamakut Buddhist University in Bangkok.
Normally, about 100 students enroll to study at the college each year. The low enrolment this year was blamed on a poor public relations drive.
Mae Chee Thanyamas admitted that some Nakhon Ratchasima natives did not even know the MBC was in their province.
Tuition fees are set at 360 baht a month but students who participate in 80% of the college's chanting ceremonies will be allowed to study free of charge.
Applications began on April 1 and will be accepted until the end of next month.
Mae Chee Thanyamas said the college's priority was not academic achievement, but rather developing good people who could live a happy life and contribute to society.
She said many students who graduated from well-known universities might excel academically but fail in their social lives.
''Our society is now in need of good people more than the geniuses,'' she said.
At the college, the nun said, the students learn how to survive in society. They learn how to handle problems and solve them with dhamma principles.
The college also plans to open a new faculty, Social Administration, next academic year, said Mae Chee Thanyamas.
Suteera Vichitranonda, advisory committee president of the Association for the Promotion of the Status of Women, said the MBC has been left to stand on its own because of what she claimed was the state's discrimination against nuns.
The Education Ministry has refused to apportion funds to MBC because it was for nuns and not for monks, she said.
She also claimed the Interior Ministry had refused nuns the right to exercise their voting rights, saying they hold cleric status.
As a result, financial support for the college has come from Mahamakut Buddhist University's fund-raising efforts and other activities.