Thailand: Buddhism embroiled in a volatile mix
By Seth Kane, Asia Times, May 26, 2011
BANGKOK, Thailand -- Thailand's community of Buddhist monks, the Sangha, has traditionally occupied a ubiquitous and hallowed place in Thai society. However, globalization and decades of rapid economic development have challenged the Sangha's traditional position, seen in its dwindling membership, plethora of scandals and diminished role as educators and conflict resolvers.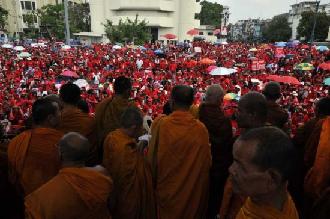 The country's current political divide has further strained the Sangha, exposing rifts and presenting hard dilemmas for an institution that is in many ways struggling to adapt to modern Thai society. Increasingly, Thailand's Buddhist monks face a stark trade-off: risk further marginalization by remaining on the sidelines of entrenched political conflict or wade into the struggle in a way that could compromise their transcendental legitimacy.
Political leaders face a related choice of whether to recruit monks to their cause and employ their Dharmic rhetoric to push their agendas. While it may bolster the illusion of their moral authority, they risk accusations of hypocrisy and exploitation given their clear worldly power agendas and often less than saintly conduct.
During Thailand's political upheavals in the 1970s, including the climactic military crackdown on student protestors in 1976, the state-backed Sangha's "Council of Elders" took a strong position supported by most Buddhist lay groups. It criticized monks for taking political sides and made clear involvement in politics represented a contravention of Sangha rules of discipline.
In recent times, particularly with the emergence of competing color-coded protest movements, monks in both rural and urban areas have taken political sides. Some were involved in storming the gates of parliament with royalist "yellow shirt" protesters in 2008 while others openly participated in "red shirt" protests that devolved into armed violence last year. Monks have also routinely featured in both protest groups' sponsored media and have appeared on rally stages in Bangkok and upcountry.
Some monks have claimed to participate in protests to reduce the possibility of violence against demonstrators. Other monks, however, have openly professed political affiliation and claimed that their role as monks mandates them to fight for truth, justice and against human suffering brought about by misrule.
While the Sangha Council issued orders in both 1995 and 2006 against monks becoming involved in politics, follow-up statements condemning violators have been few and far between. The silence could stem from a perception that the council's central calls would not be heeded by peripheral monks.
Because of the council's close association with traditional Thai power structures, some of which have recently been pulled into the political fray, calls for non-involvement or threats of punitive actions could similarly be perceived as taking political sides.
Ahead of general elections scheduled for July 3, the government's Office of National Buddhism (ONB) recently issued a warning for monks and novices across the country to steer clear of political activities. Nopparat Benjawatananant, the ONB's director general, said the warning was issued in reaction to reports that monks had started to canvass on behalf of candidates in their localities.
The most overt political linkages in the conflict have emerged from the rapidly growing evangelical sects that have broken with the state-backed Sangha. An off-shoot of the "yellow shirt" movement hails from the evangelical Santi Asoke religious sect which claims Chamlong Srimuang, a core "yellow shirt" leader, as their political representative. With their symbolic support, the "yellow shirts" have presented themselves as fighting for explicitly Dharmic goals of countering Thai politicians' corruption and the thirst for power they allege former prime minister Thaksin Shinawatra embodied.
Composed of self-sufficient ascetic farming communities across the country, Santi Asoke split with the official Sangha in 1975 and overtly supported a political party, the Palang Tham, in the late 1980s and 1990s. The party employed Buddhist concepts of purity to differentiate itself from mainstream political parties and ironically through coalition horse-trading brought Thaksin to national prominence as foreign minister in 1994.
The current "yellow shirt" protest against interim prime minister Abhisit Vejjajiva's government has undermined Santi Asoke's claim as an effective rallying force judging by the small numbers gathered at their protest site outside of Government House.
Another evangelical sect, based at Wat Dhammakaya on the outskirts of Bangkok, has strong links with Thaksin and many of his business cronies. Dhammakaya's teachings emphasize a gospel of prosperity that has captured the imagination and aspirations of segments of Thailand's middle and upper classes.
In the mid-2000s, the temple's leaders allegedly leveraged their connections to Thaksin to beat corruption charges and many senior members of the sect have remained important financial and political backers of the pro-Thaksin movement.
Earthly behavior, holy criticism
Another dimension of Buddhist involvement in Thai politics is the self-styled "socially engaged" Buddhist movement led by prominent intellectuals such as Sulak Sivaraksa.
Sulak was an outspoken critic of Thaksin's free-trade policies and large-scale development projects that forced villagers from their land and damaged the environment. The contentious Sulak has on several occasions faced lese majeste charges and has been alternately critical of "yellow shirt" leaders for being arrogant but also supportive of the movement's promotion of Dharma in politics.
Opposition from renowned charismatic monks plagued Thaksin throughout his six-year tenure. Luang Ta Maha Bua, a revered forest monk who famously raised donations to help the country weather the 1997-98 Asian financial crisis, frequently denounced what he perceived to be Thaksin's self-interested approach to politics.
Thaksin attempted to silence the criticism through a defamation lawsuit but dropped the charge after royal admonishment. Queen Sirikit and Abhisit were among the tens of thousands who turned up at Maha Bua's cremation ceremony in Udon Thani province, a Thaksin political bastion.
One of the motivations for the earliest street protests against Thaksin in 2005 stemmed from accusations that he had overstepped his authority by conducting rites and rituals reserved for royalty at Thailand's holiest temple, Wat Pra Kaew.
Thaksin also faced "yellow shirt"-spread rumors that attacks on holy relics, including Bangkok's Erawan Shrine, were a part of his plan to maintain power through the use of black magic. Others interpreted the shrine's destruction as a bad omen for Thaksin, one that contributed to perceptions that his political authority was deeply compromised.
The symbolism of the wat, or temple, as a place of peace and protection was violated last year when at least six protesters and a medic were shot and killed at Bangkok's Wat Pathumwanaram during a military crackdown operation on "red shirt" demonstrations.
Witnesses allege shots were fired by military snipers into the temple against unarmed protesters from the elevated sky train platform. Earlier "red shirt" militant leader Khattiya Sawasdiphol, alias Seh Daeng, had used the temple as his protest site base, indicating an attitude of using the temple, and perhaps by extension Buddhism in general, as a tool for tactical gain.
In the past, politicians in situations similar to the self-exiled Thaksin would have likely ordained for a short period in a bid to show humility and re-ingratiate themselves with society. The current conflict, which has resulted in scores of deaths and thousands of injuries, has in comparison seen very few acts of repentance or remorse.
Religion has also played a central role in Thailand's other major crisis in the deep south region, where an ethnic Malay Muslim insurgency has contributed to some 4,700 deaths since January 2004. While previous iterations of the conflict were fought along similar ethnic lines, the new generation of insurgents has adopted more explicit violence against Buddhist monks, including several cases of beheadings, and temples as part of their fight against the Thai state.
Buddhist militia groups set up to protect minority Buddhist populations in the region have come under criticism for targeted killings and exacerbating communal violence. This has raised vexing questions about the inclusiveness of Thai national symbols, especially the Sangha, which in the deep south is viewed by some as more of an obstacle than bridge to finding a sustainable resolution to the conflict.
From a longer-term perspective, the diminished role of the Sangha is arguably an important causal factor in Thailand's crisis. Both sides of Thailand's political divide are in competition for the loyalty of the rural masses, who are in the process of questioning old assumptions about legitimate authority, political passivity and traditional methods of dispute resolution.
The monastery is no longer the only crucial center of village life and monks increasingly play more ceremonial than mediating roles. As the political conflict plays out, how the Sangha reacts will be a crucial determinant of Thailand's post-crisis socio-political order.
---------
Seth Kane is a visiting research fellow at the Bangkok-based Institute of Security and International Studies.