Buddhists celebrate first day of Lent
The Nation/Asia News Network, Jul 17, 2011
Bangkok, Thailand -- In Nakhon Ratchasima's Muang district, a major contest of 59 carved candle floats was expected to generate at least Bt100 million during the four-day-long holiday period. Chok Chai district's Wat Mai Saprathum won the Category A prize - a trophy donated by HRH Princess Maha Chakri Sirindhorn and Bt100,000 cash - for the seventh year in a row.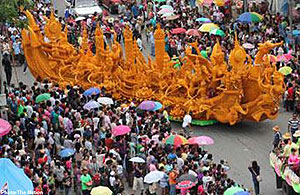 The temple's carved-candle float was about HM the King during his monk ordination ceremony, with the mystic forest of Himmapan as background, and a wax statue of the Siam guardian angel on a swan. The Category B trophy and Bt80,000 cash was won by Phimai district's Wat Burapapimol, and the Category C trophy and Bt30,000 cash went to Phimai district's Ban Suay Ville.
In Angthong's Chaiyo district, Buddhist families made merit and worshipped the Phra Maha Buddhapim (Luangpor Tho) statue at Wat Chayo Worawihan.
In Suphan Buri, a contest of 10 carved candle processions, presided over by former PM Banharn Silapa-archa, is being held until today. It attracted a large crowd, many of whom also attended merit-making at nine key temples in Muang district.
In Phitsanulok, Governor Preecha Ruangchan and residents gathered at Phra Sri Rattana Mahathat Temple to offer food and necessities to monks on the auspicious occasion.
In Chiang Rai, Thai and Burmese Buddhists thronged to worship relics of the Lord Buddha contained in the holy Phra That Doi Tung at Phra That Doi Tung temple. They offered monks necessities, including candles and robes, in the hope that such offerings on the Buddhist Lent Day would carry on the religious tradition and bring their families and themselves good luck.
In Surat Thani, despite the hovering rain clouds, devout Buddhists went to make merit and practise dharma at temples, especially Chaiya district's Suan Mokkh and Wat Phraborommathat Chaiya.