Thai Premier backs Santi Asoke sect's inclusion
by AMPA SANTIMATANEDOL, Bangkok Post, April 13, 2005
Bangkok, Thailand -- Prime Minister Thaksin Shinawatra wants all Buddhist groups, including the unorthodox Santi Asoke sect, to join next month's religious ceremonies marking Visakha Bucha Day at Buddha Monthon in Nakhon Pathom province.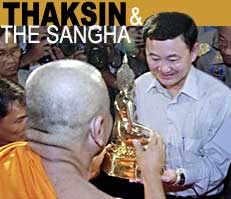 His statement was welcomed by Santi Asoke supporter Maj-Gen Chamlong Srimuang, who said the Sangha Council's ruling not to allow leading sect member Than Chan to be on the ceremony's organising panel, was not final.
Visakha Bucha Day falls on May 22.
Deputy government spokeswoman Sansanee Nakpong said the prime minister told yesterday's cabinet meeting that he wanted to see the organising of more religious activities like Sunday's national merit-making ceremony, which showed the unity of all religions thereby confirming there were no religious conflicts in Thailand. An informed source who asked not to be named said Mr Thaksin, who wanted to see all Buddhist groups united, would certainly not want the Santi Asoke sect to hold religious ceremonies separately from the events at Buddha Monthon.
The prime minister told his deputy Visanu Krue-ngarm at yesterday's cabinet meeting to consult the Culture Ministry, deputy prime minister Chaturon Chaisaeng and the National Buddhism Office on how to invite Buddhists from neighbouring countries and even people of other religions, to the Visakha Bucha Day Fair, and to consider changing the venue in the event of rain.
``Yesterday he [Mr Chamlong] came to see the prime minister along with monks from Wat Chonlapratharn, Santi Asoke sect and Wat Dhammakaya, and nun Sansanee [Sathianrasut], for talks on the holding of Visakha Bucha Day Fair. ``The prime minister thought all parties must help organise such a fair and wanted them to ask the Sangha Council, the National Buddhism Office and the Education Ministry to be organisers as well,'' the source said.
Maj-Gen Chamlong, also chief of the morality promotion centre, said: ``No one can bar `monks' from Santi Asoke from attending the ceremonies at Buddha Monthon because Buddha Monthon belongs to all Buddhists. The prime minister wants all Buddhists to join forces to hold such an important ceremony.''
On Sunday, he presented authorities with a letter seeking the removal of the name of Than Chan, a leading member of the Santi Asoke sect, from the list of the fair organisers. However, the Sangha Council's ruling was not final and would be revised by the council soon, Maj-Gen Chamlong added.