Tzu Chi aids Thai flood victims
Philippine Daily Inquirer, November 13, 2011
Bangkok, Thailand -- A team of Buddhist Tzu Chi Foundation volunteers has been carrying out relief work for the flood victims in Thailand, which is suffering its worst flooding in 50 years.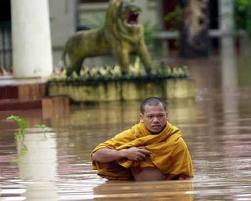 Many areas of Thailand, including the capital Bangkok, are still submerged since floodwaters overran parts of the country beginning in August.
Thousands of people have fled their homes, while others are living on the upper floors.
From Sept. 24, Tzu Chi volunteers have been providing cooked food and comfort to the flood victims. They have delivered 120,000 bottles of drinking water not only to the residents but also to the 50,000 Thai soldiers providing security in the flooded areas.
Shipping of the drinking water from Kuala Lampur, Malaysia, to Bangkok was done by volunteers in Thailand.
"We thank you very much for fulfilling this mission to deliver the drinking water to us," said Naraporn Chanocha, chair of the Overseas Chinese Commission based in Thailand.
Volunteers from the Philippines and Taiwan, for their part, brought rice and other goods for the flood victims when they arrived in Bangkok on Nov. 3. They also brought raincoats, water-resistant suits and vests to be used in the relief operations.
The team was led by Dr. Chien Sou-Hsin, superintendent of the Dalin Tzu Chi Hospital.
Work relief program
On Nov. 6, the group held a meeting in Bangkok with local volunteers, business people and leaders of large companies to discuss how best to distribute the aid.
They considered a work relief program for the flood victims, like the Tzu Chi Foundation did when in Taiwan and the Philippines when those places were hit by floods in August and September 2009, respectively.
Alfredo Li, chief executive officer for Tzu Chi Philippines, said he did not doubt the people would do all they could to clean up their homes.
Michael Siao, a volunteer from the Philippines, said, "At that time, we had a very simple idea, wanting to mobilize them in the shortest possible time. Master Cheng Yen said that if we did not do the cleaning job very quickly, we could have been faced with burying the dead and then it would not only have been a question of medical expenses."
Master Cheng Yen is the founder of Buddhist Tzu Chi Foundation.
Dr. Chien said during the meeting that disease carried by the water was one of the biggest issues in flooding.
"Water moves slowly but carries a large quantity of germs into the places where it flows. Most important is that people do not have wounds on their legs. These could be infected and they could be serious. The risk of infection causing leptospirosis is very high," he said.
For inquiries on how to help, call Chieh Fang Uy at (02) 732-0001 local 218; or e-mail tzuchi_phils@ph.tzuchi.org.