Battle on to reclaim Bhuddhamonthon Buddhist Park
THE NATION December 8, 2011
Bangkok, Thailand -- Occupying more than 2,500 rai of land, the park is seen as an icon of Thai Buddhism and attracts thousands of worshippers on holy days for candle-lit processions around the Giant Buddha Statue.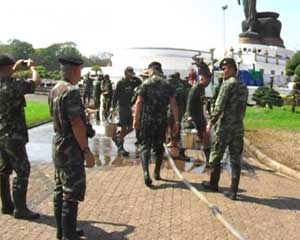 << Officials and volunteers from various organisations yesterday turned out in impressive numbers to begin cleaning up the flood-ravaged Bhuddhamonthon Buddhist Park in Nakhon Pathom.
"We are responding to the initiative of HRH Crown Prince Maha Vajiralongkorn and HRH Princess Srirasmi who wish to see the park restored as a centre of religious and traditional activities," said Nakhon Pathom deputy governor Nimit Jantarawimon.
More than 200 soldiers and volunteers yesterday began cleaning the area around the Giant Buddha Statue after flood waters receded. However, most parts of the park remain inundated, with underground electric cables and large trees suffering serious damage. Officials estimate a recovery bill of well over Bt500 million, while efforts to salvage the park must begin immediately if its trees are to survive.
"The government and the private sector will join hands for efforts to pump flood water out of the park," Nimit said.
He said the water would be drained into canals so as to prevent impacting local communities.
"We expect the operation to be completed before year-end."
National Office of Buddhism director Nopparat Benjewattananan said relevant authorities were asked to quickly drain flood water out of local communities into the Tha Chin River first.
"Then we can pump water out of Bhuddhamonthon Buddhist Park without affecting local residents," he said.
As of yesterday, flood water on the nearby Bhuddha Monthon IV Road was still between 40 and 50 centimetres deep. The beautiful road in front of the park was also flooded and remained impassable to small vehicles.
Nakhon Pathom and Bangkok were among several provinces ravaged by the worst flooding in decades this year.
Geo-Informatics and Space Technology Development Agency director Anond Snidvongs said yesterday that the volume of run-off water into Bangkok's western zone had reached a historic high this year.
"We will need to plan long-term solutions for the future," he said.
Anond assured everyone that the worst of the flood crisis had passed.
Today sees the launch of an exhibition on the courage and compassion shown by Thais during the crisis. Organised by the Culture Ministry, "Water+Empathy 2011" at the Bangkok Art and Culture Centre comprises 213 photographs that depict both the severity of the disaster and the flow of help for victims in response.
HRH Princess Maha Chakri Sirindhorn will preside over the opening ceremony of the exhibition at 5pm today.