Obama gets taste of Thailand at Buddhist temple
by THANYARAT DOKSONE, Associated Press, November 18, 2012
BANGKOK, Thailand -- Leaving behind chants of "Obama, Obama" by adoring crowds on the streets, the president of the United States stepped into the serenity of Thailand's most famous temple compound to marvel at its centerpiece -- a gigantic, golden statue of a reclining Buddha propped up on one elbow before passing into nirvana.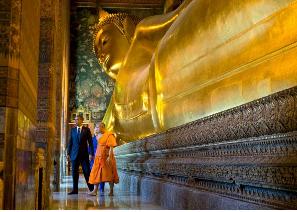 << U.S. President Barack Obama, left, and U.S. Secretary of State Hillary Rodham Clinton, rear, tour the Viharn of the Reclining Buddha with Chaokun Suthee Thammanuwat, the Dean, Faculty of Buddhism Assistant to the Abbot of Wat Phra Chetuphon at the Wat Pho Royal Monastery in Bangkok, Thailand, Sunday, Nov. 18, 2012. Photo: Carolyn Kaster / AP
The Temple of Reclining Buddha, formally known as Wat Pho, was the first stop on President Barack Obama's Asian tour that will also take him to Myanmar and Cambodia. Obama arrived at the temple, one of Bangkok's most famous tourist sites, straight from the airport after landing in Bangkok on Sunday. Visits to see the king and the Thai prime minister were saved for later.
Observing traditional custom, Obama took off his shoes as a saffron-robed monk led him and Secretary of State Hillary Clinton through the 18th century temple's stoned paved compound of multi-colored spires and chapels with hundreds of gilded Buddha images.
But the main attraction is the reclining Buddha statue that at 46 meters (150 feet) long, and 15 meters (50 feet) high, stretches half the length of a football field. The statue is made of bricks and plaster and covered in gold leaf with mother-of-pearl inlay decorating the feet.
The visit was meant to give Obama a taste of Bangkok. But one thing Obama did not get to see as he sped through Bangkok was the city's infamous traffic jams. All roads leading to Wat Pho and his other destinations were blocked and cleared of cars as part of security measures that included bomb squads and shutting the temple to the public hours in advance.
Camera-clad tourists who came to visit the temple or glimpse the American leader were initially dismayed. They were kept hundreds of meters (yards) away as his armored Cadillac pulled to a stop inside a white tent erected at the temple's entrance, which obscured him from sight.
But those who waited an hour for his temple tour to end were elated. A smiling Obama waved from the backseat of his car, which drove slowly alongside cheering crowds as he headed to a royal audience with Thailand's revered, ailing monarch, 84-year-old King Bhumibol Adulyadej.
"Yes! I saw him! And he was waving at us!" said 72-year-old American tourist Elizabeth Simon visiting Thailand with her 74-year-old sister. They were at the beach in Pattaya two hours away but rushed to Bangkok just to see him. "I'm so thrilled that he won the election. When we heard he was coming, we decided to get here."
Parts of the temple date to Thai King Rama I in the 1700s. The king's ashes are kept beneath the pedestal of one of the huge seated Buddha statues in the complex, which is located along the banks of the Chao Phraya river near the Grand Palace. It is in the quiet, historic old quarter of Bangkok, outside the skyscraper-and-traffic clogged downtown.
"It's meaningful that Obama came straight to Wat Pho," said Pradab Supradit, a 67-year-old Thai grandmother who took a bus, a river ferry and then walked up roads closed for security hoping to glimpse the man or just see his convoy. "It will bring him blessings because temples are at the center of Thai people's hearts."
"I want to see him with my own eyes," she said. "I like Obama because of his charisma and personality. He's a smart guy. I love the way he talks."
------
Associated Press Writers Jocelyn Gecker and Todd Pitman contributed to this report.