Light and sound show to attract youth to religion
By Ampa Santimetaneedol, Bangkok Post, May 9, 2005
Bangkok, Thailand -- This year's Visakha Bucha Day celebrations to be held later this month at Buddha Monthon in Nakhon Pathom, will focus on the essence of dhamma rather than ritual and feature theatres and light and sound performances aimed at attracting youth towards religion.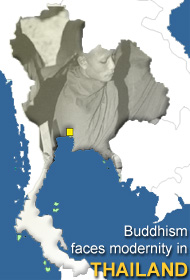 Jakkratham Thammasak, director of the National Buddhism Office responsible for organising the celebrations at Buddha Monthon, said this year's Visakha Bucha Day fair would emphasise dhamma rather than ceremony.
To attract youngsters, the events at Buddha Monthon will include three shows of dhamma-related outdoor theatre by veteran actress Patrawadee Meechuthon and three shows of a son et lumiere performance in honour of the Lord Buddha, expected to be sponsored by the Tourism Authority of Thailand.
Deputy Prime Minister Chaturon Chaisaeng, as chairman of the organising panel, said this year would be the first time in Thai Buddhist history that Visakha Bucha Day events are held with great fanfare, with Buddhists from 37 countries taking part and three venues used.
The celebrations at Sanam Luang during May 16-22, at the United Nations office in Bangkok, and at Buddha Monthon during May 21-24 will be held by the Buddhism promotion centre of Thailand, Maha Chulalongkorn Raj Vidyalaya Buddhist University, and the NBO respectively, he said.
Buddha Monthon would serve as the centre of all the events to mark the International Visakha Bucha Day. A religious ceremony there on May 22 will be presided over by Privy Councillor Ampol Senanarong on behalf of His Majesty the King.