Measuring Happiness
Stories by KARNJARIYA SUKRUNG & Photos by SOMKID CHAIJITVANIT, Bangkok Post, Nov 5, 2004
Some say Gross Domestic Product can't quantify a nation's contentment - and there is an alternative
Bangkok, Thailand -- If you asked villagers in Mooban Kampla-lai, Ubon Ratana district, Khon Kaen, what good quality of life is, they would promptly give you an interesting, succinct list. Closer and stronger family and community bonds.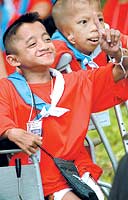 Abundant chemical-free food from their own backyards that they can share with neighbours. Better soil, clean water and air. A sense of security. A long, contented life.
Nowhere on this list appears the desire for a fat bank account, a grand mansion, home entertainment units, high-speed Internet, or other high-tech gear.
"Simply put, our villagers are happier and healthier when we can live together and nobody has to migrate to look for jobs in the cities," said Martin Wheeler, an English-born man who settled down with his Thai wife and family in Khon Kaen and has been there for almost a decade.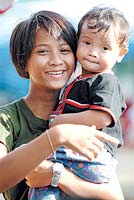 Despite his Manchester upbringing, the Thai-proficient Wheeler was aptly nominated by his village peers to represent Isan farmers at the second annual international forum on Gross National Happiness (GNH). A one-day affair held recently at the Asian Institute of Technology (AIT) in Bangkok, the GNH conference witnessed a wide array of speakers - academics, entrepreneurs, spiritual leaders and farmers - who brainstormed their ideas on what should constitute this innovative concept of national happiness.
"We may not have a lot of money, but we are definitely far from being poor. Our community school has a teacher-student ratio of 1 to 15, which is much better than a number of elitist private schools in England," Wheeler said smiling.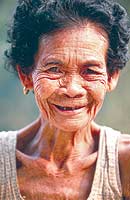 Such impressive educational statistics are only one facet of happiness. In most cases, however, "measuring" the level of villagers' happiness is less a mathematical endeavour than a process of becoming more sensitive to what people really need on a daily basis. For instance, a few of Wheeler's neighbours may have a monthly income below the newly-adjusted poverty line of 1,163 baht per person per month, but their table has never been void of food.
On the other hand, if one used the mainstream scale of Gross Domestic Product (GDP), people like Wheeler and his friends would be ranked as "poor" and "underdeveloped". But are they really?
Curiously, in a world-class metropolis like Bangkok, one of the most thriving industries is healthcare. "But is that really what you call progress?" asked Dr Priyanut Piboolsravut from the National Economic and Social Development Board (NESDB). "With more and more people getting sick and dying? Is being in poor health considered growth and development?"
Conventional Western industrial-based development has failed to make us happy and healthy, said Karma Galay of the Centre for Bhutan Studies. "Happiness is essential to human development, and there should be a new paradigm to measure development," he added.
In his view, the goal of human development should come from progress that strikes a balance between the GDP that targets physical well-being and the GNH, which embraces the idea of emotional and spiritual wellness.
"It's an urgent matter to work on this new paradigm [of GNH]. Traditions and cultures that nourish happiness are fading away. We have to act now," urged Galay.
Buddhism, with a culture of awakening or non-violence, is one such aspect that needs to be promoted, said prominent social critic Sulak Sivaraksa.
"Wealth, in the Buddhist concept, does not emphasise physical affluence but a spiritual wholeness of a person. A wealthy person is one who is free, contented, generous and mindful," said Sulak.
However, to set a standard and measurement to use as indicators along side the GDP scale may be problematic.
"Who decides [what constitutes] happiness? What does it embrace? Who will measure it? We need to explore these questions thoroughly before setting standards," said Dr Kyoko Kusakabe, from AIT's Gender and Development Studies programme.
Happiness may be a universal feeling, but how one describes it is a personal matter. An unquantifiable concept, the idea of happiness is value-loaded and varies from one culture to another. There can be a hedonistic view in the extreme pursuit of material happiness, or a hermit kind of solitary happiness based on minimalist possession.

Delegates from the Buddhist state of Bhutan shared their experiences as the country has been implementing this Gross National Happiness concept for over three decades.
"By removing obstacles to happiness and promoting conditions of well-being, people can create a happy life themselves," said a Bhutan delegate.
Good governance and civil participation is a platform to Gross National Happiness, the delegate pointed out. "A democratic state is one that is decentralised. It will embrace and respect ethnic differences. Each community has different values, so we leave them to decide what they want to do for their happiness. In such liberal climate, people are empowered," he said. "Happiness can be achieved only when it is community initiatives, and not by outsiders' ideas of what happiness is and should be."
In Wheeler's Kampla-lai community in Ubon Ratana district, distraught villagers decided an economy of self-sufficiency was their way to achieve happiness.
"Back then, our village was in a pretty bad shape. Every single villager was a seasonal migrant labourer who moved to work in the cities. There were many broken families. The environment was bad. The soil was infertile. People were sickly. Also, a lot of us had to carry huge debts," recalled Wheeler.

"Then we started asking ourselves what we needed to make us happy and how would we know if we were on the right path."
And the answers were simple. The Isan folks chose to adopt reforestation and a revamp of their materialistic values. Cooperation among the rural villagers hasprospered since.
"A self-sufficiency economy is a balanced mode of development for it puts emphasis on the values of moderation, immunity to bad influences, and reason," said Dr Priyanut, from the NESDB's self sufficiency economy unit.
"Instead of building standardised indicators of happiness, it may be more flexible that we create learning networks among people to share their concepts and practices towards holistic well-being," said Dr Priyanut.
Wheeler's community has finally found its solution. And hopefully, in years to come, there will be more communities joining the happy link.