Miss Universe hopefuls offend Thais
The New Straits Times (AFP) May 19, 2005
BANGKOK, Thailand -- A bevy of beauties vying for the Miss Universe crown sparked a row in Thailand when they paraded in swimsuits in front of revered Buddhist temples, officials and religious experts said today.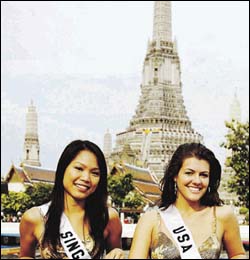 << Miss Universe contestants posing in bikini-clad swimsuits with Bangkok?s imposing Wat Arun Buddhist temple as a backdrop.
Since 1991 The stunt, part of events in the three-week lead-up to the May 31 pageant, has irked religious and political leaders, with some demanding that the offending scenes be cut out of the final television broadcast.
Photographs splashed across the front pages of Thai and English language newspapers showed the bikini-clad beauty queens on the deck of a cruise ship with Bangkok?s imposing Wat Arun Buddhist temple as a backdrop.
The contestants did not enter the religious sites in their swimwear, but scenes of them baring their skin was too much for some.
"The visitors are not Buddhists, they don?t understand our culture," said Udom Charoen, director of Thailand?s National Buddhism Office.
He said it was up to the organisers to explain to them what is appropriate and what is not.
The Nation newspaper reported that Tourism and Sports Minister Somsak Thepsuthin said scenes of the contestants in swimsuits with temples in the background would be edited out of footage to be broadcast worldwide on May 31.
Tourism Ministry officials could not verify the remarks.
Thai Prime Minister Thaksin Shinawatra said the incident may have been blown out of proportion.
"We sometimes take things too seriously," he said. "They were cruising along the Chao Phraya river and filming wherever they thought was beautiful.
"It is just a matter of different cultures. We told them, and they stepped back. It?s no problem."
Preecha Kanthiya, director general of the Culture Ministry?s religious affairs department, said the incident was inappropriate.
"I want the Miss Universe pageant to be more aware and cautious of sensitivities that might affect Thai society," he told the Khao Sod newspaper.
Eighty-one contestants are vying for the crown in the contest, Organisers have stressed that this year?s pageant will showcase Thailand?s recovery from the tsunami disaster and convince tourists that the region is safe to visit.