Miss Universe comes under fire from senators
TNA, May 19, 2005
BANGKOK, Thailand -- Thailand?s hosting of this year?s Miss Universe contest yesterday received a fierce attack from leading members of the Senate who warned that Thailand?s unique cultural heritage was being eroded by a desire for internationalism.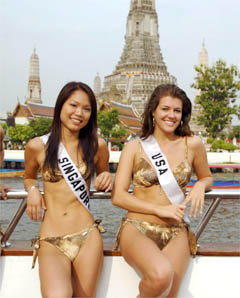 << Miss Singapore Universe Cheryl Tay, left, and Miss USA Universe Chelsea Cooley pose in their swimsuits on the Grand Pearl on the Chao Praya River in Bangkok. (AP Photo/Miss Universe, Patrick Prather, HO)
Despite Thailand?s love affair with the beauty pageant, holding the Miss Universe contest in the kingdom was always going to be a contentious issue, and the condemnation from senators including Mr. Suradech Yasawat, the chair of the Senate tourism committee, was almost inevitable.
What has really caught the senators? ire is the shooting of publicity photos of bikini-clad contestants in front of the Temple of Dawn, one of Bangkok?s most revered religious monuments.
Noting that the image had a huge impact on the feelings of the Thai public, Mr. Suradech said: ?These images are being shown around the world.
It is completely inappropriate?When a contest is being held in Thailand, Thai traditions and culture should be respected?.
Also commented upon was the irony of the organizers? claims that a photo of bikini-clad beauties showed the way of life of the Thai people, merely because it was taken in front of a Buddhist temple.
As Bangkok senator Wallop Tankhananurak noted, while there was nothing wrong with wearing a bikini, it was far from Thai traditions to wear a bikini in public.
?Internationalism should not be used to trample on Thainess?, he said.
Stressing that he was not condemning the individual contestants, he urged the organizers to reflect on their position.
If the organizers really wanted to promote Thailand, he said, they should ask the contestants to don Thai dress.