Monks' bad behaviour hotline launched by Thai Buddhist authorities
Agence France-Presse, 19 June 2014
National Office of Buddhism says hotline idea emerged after Thai coup leader expressed concern about the religion's image
Bangkok, Thailand -- Buddhist monks face censure after Thai religious authorities said they had launched a 24-hour hotline for the public to report unruly acts.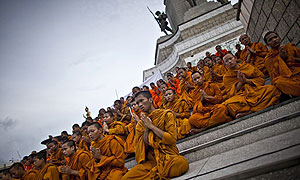 The move follows a cascade of high-profile scandals ranging from monks reportedly taking drugs and drinking to a case in May of five defrocked abbots charged with sexually abusing boys.
The National Office of Buddhism (NOB) said the idea for a hotline had emerged after Thailand's coup leader General Prayuth Chan-ocha expressed concern about the image of Buddhism, of which an estimated 95% of Thailand's 67 million population are devotees.
"We have already set up a hotline to receive complaints from people if they see anything that endangers our religion," the office's Napparat Benjawattananant said on Wednesday.
"People can file a complaint if they see monks are involved in irreligious things. For example if they see fake monks collecting donations," he added.
The office said there were about 270,000 monks across the country.
"We don't have enough staff to check every monk, so we need to mobilise the general public," he said, adding that officials would take action immediately after receiving complaints.
A slew of scandals involving monks has tarnished the clergy's image in recent months.
Last September, authorities seized nearly £470,000 of assets, including a Porsche and a Mercedes-Benz, from a monk who was defrocked for a controversial trip in a private jet and who was also accused of fathering a child by an underage girl a decade earlier.
"There have been a lot of cases regarding bad behaviour related to monks, so we just want to fix this problem," said the Thai junta spokesman Werachon Sukondhapatipak.