Ivory Urn for Top Thai Buddhist's Remains Sparks Debate
by Steve Herman, VOA, August 5, 2014
BANGKOK, Thailand -- In Thailand, an urn has been carved from ivory to hold the remains of the country's top religious leader, who died last year. The production of the urn comes as Thailand faces international pressure to eradicate the world's largest market for unregulated ivory.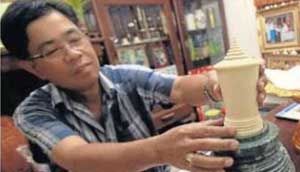 << An image of the urn is seen on the front page of the Bangkok Post.
Sometime next year, a ceremony will be held to transfer the cremated remains of Thailand's late Supreme Patriarch into an urn made of ivory.
Somdet Phra Nyansamvara died last October at the age of 100.
The Supreme Patriarch or Sangharaja was the head of the Sangha Supreme Council, overseeing all Buddhist monks in Thailand. He was appointed by the King upon the prime minister's recommendation.
Last month, photographs of the completed ivory urn for the late Sangharaja were on the front pages of newspapers in Thailand, where 95 percent of the population is Buddhist.
The ten kilograms of ivory used to carve the urn were taken three years ago from the tusk of a 70-year-old Thai bull elephant, named Thongbai.
The tusks of captive elephants are sometimes trimmed for health reasons.
In Thailand, some Buddhist leaders have called for congregants and temples to reject the use and trade of ivory, even if it's from live captive elephants. They note the demand for ivory drives the unsustainable poaching of elephants, a revered animal in the kingdom and in Buddhism.
The assistant abbot of the Golden Mount Temple (Wat Saket) in Bangkok, Phra Maha Napan Santidhaddo, said Buddhists are to avoid intentions or acts which would cause more animals to be harmed.
"In the case it's not harming any elephant it would be fine. But we have to be careful about the message that we send to the society that 'oh, it would be great if we can do the urn from the ivory.' And maybe it causes a new circle of destroying elephant life," Napan noted.
In Thai tradition, ivory is considered a pure and auspicious material and donating it for the urn of a highly respected figure is considered meritorious.
Other materials for the Supreme Patriarch's urn were deemed inappropriate. Gold is reserved for royalty. Using marble, ceramic or wood would have been too pedestrian.
Phra Maha Napan sees the publicity about the Supreme Patriarch's ivory urn as a Buddhist teaching moment.
"We have to respect both sides, the environmentalists and the ones who have a strong belief in making merit. It's a great chance to educate both of them," stated Napan.
Sales of ivory from domesticated elephants are legal in Thailand.
But the kingdom has no ivory registration system in place. Thus it is not possible to trace the origins of the lucrative product.
And that, according to the TRAFFIC wildlife monitoring network, creates a loophole for bringing illegal ivory from African elephants into the Thai marketplace.
Many Thais are not aware of the link between ivory and wildlife crime.
The head of Thailand's department of national parks and wildlife, Nipon Chotiban, is calling for an amendment to existing legislation that would help bring the domestic ivory trade under control.
Thailand, last year, pledged to close its domestic ivory market. But a military coup this year displaced the civilian government. And with the junta expected to be in control until at least late next year it is unclear whether Thailand will be able to make good on its previous commitment.
A global regulator, expressing frustration with Thailand, is warning that the country faces a total ban on wildlife trade unless it soon brings the ivory situation under control.
The Convention on International Trade in Endangered Species of Wild Fauna and Flora (known as CITES), at a meeting in Geneva last month, set a March, 2015 deadline for Thailand to make significant progress or risk wide-ranging sanctions.
Colman O Criodain, a trade analyst for the World Wide Fund for Nature (WWF), was at the meeting. He said the sincerity of Thai officials agreeing to act quickly in Bangkok eventually persuaded CITES against taking immediate action.
"Some member states were so incensed about the situation in Thailand that they were insisting on sanctions now. And it took a lot of persuasion to get them to back off. So, whatever, about Thailand being serious they need to recognize that the international community is serious about this and they won't be pawned off with excuses," O Criodain said.
The sanctions would impact Thailand's trade in species covered by CITES, including orchids and reptile leather.
CITES and environmental groups blame Thailand's de facto unregulated market for the illegal killings of African elephants.
CITES estimates more than 60,000 African elephants have been killed in the past three years, far outstripping their birth rate.
There is significant demand in Asia, especially in China, for ivory for jewelry, artwork and traditional medicines.