Thailand gears up to become world Buddhism centre
TNA, May 19, 2005
BANGKOK, Thailand -- From its humble beginnings in Nepal, Buddhism has spread out to become the major religion of parts of Asia, and has won sufficient global recognition for the United Nations to declare Visakha Bucha, the day on which Buddhists celebrate the Buddha?s birth, enlightenment and death, a day of international importance.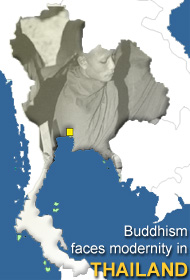 But now, if the Thai government gets its way, the focus of Buddhism as a global force could shift towards Thailand as a world Buddhism centre.
Chosen to host this year?s global Visakha Bucha celebrations, Thailand is hoping that increasing numbers of foreigners will come to Thailand to undertake dharma study.
The increasing internationalisation of Thailand?s religious affairs was exemplified yesterday by a meeting of Buddhist leaders of both the Mahayana and Theravada traditions from 41 nations, who flocked to Buddhamonthon to discuss how Buddhism could be used to benefit society and the world.
Addressing the meeting were speakers, including a representative of the Supreme Patriarch, the dean of Thailand?s principal Buddhist university, and Buddhist leaders from China, Sri Lanka and Cambodia.
According to Dr. Chakratham Thammasak, director of the Bureau of Buddhism, Thailand is now fully prepared to become a global Buddhism centre.
A peaceful country in comparison with some of its Buddhist neighbours, Thailand can also boast a Buddhist monarch, while Buddhism is supported and promoted as part of government policy.
Dr. Chakratham, along with the government, hopes that Thailand?s bid to become a world religious centre will not only see increasing numbers of foreigners come to the kingdom for religious activities, but will also boost the pride of Thai citizens and encourage an interest in Buddhism among Thailand?s young people.