Buddhist symposium in Chiangmai
by Patinya Srisupamas, The Nation, August 3, 2015
Chiang Mai, Thailand -- The event is being held at Mahachulalongkornrajavidyalaya University in the northern province for the first time from August 1-4.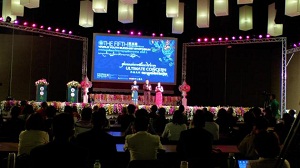 << Some 1,000 Buddhists from several countries are gathering in Chiang Mai to attend the Fifth World Youth Buddhist Symposium.
It was organised by the university's Chiang Mai campus, Centre for Religious and Spirituality Education of the Hong Kong Institute for Education, World Youth Buddhist Society and Buddhist Society of Hong Kong Polytechnic University.
The theme is "Ultimate Concern" and the three sub-themes are "Spiritual Well-being", "Life and Death" and "Tibetan Buddhism Tradition". The aim is to offer a venue for people to get together to think and talk about questions of life and death.
The participants came from Tibet, Hong Kong, China, Singapore and Australia, for example.
Following the success of the past four symposiums, the organisers hope that this year's edition would serve as a friendly and harmonious platform for the Buddhist community, other religions and academia to create a happy and harmonious environment for mankind.
Ever since ancient times, human beings have been constantly exploring life's origin and end, and seeking the meaning of life and death beyond worldly life.
From basic questions like why we were born or if there is another world after death, each of these concerns is leading to the development of a civilised society, caring for humans' confusion and anxiety over life and death, and giving expectations to the suffering, the organiser said.