200 inmates make 'be good' vows for World Peace Week
by BHANRAVEE TANSUBHAPOL, Bangkok Post, May 26, 2005
Bangkok, Thailand -- More than 200 inmates at Klong Prem prison yesterday made written pledges under the ''Do Good Now, Not Later'' programme to commemorate World Peace Week.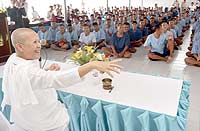 << Buddhist nun Sansanee Sathiensud urges inmates of Klong Prem prison to make a written pledge under the "Do Good Now, Not Later" programme. ? BOONNARONG BHUDHIPANYA
The activity was held jointly by the Corrections Department and Sansanee Sathiensud, the famous Buddhist nun who will present the pledges to Prime Minister Thaksin Shinawatra.
The programme was created in response to the government's policy to promote Thailand as a global centre for Buddhist teaching and the dissemination of Buddhist knowledge over the next three years as part of the grand celebrations for His Majesty the King's 80th birthday in 2007.
Nun Sansanee told the convicts they should seek happiness even while in prison.
''Freedom is not for others to give us, but one should think it exists even here,'' she said, adding that the inmates should not be counting down the period of their jail terms, but instead learn to appreciate how to live their lives in the present.
Nun Sansanee said humans should treat life gently. Suffering can be eliminated if one gains sufficient wisdom through conscience and mindfulness, she said.
Many prisoners joined in the process of making pledges about their lives and families. Examples included, ''I will not let my parents down again'', and ''I will quit drugs because I love my family and myself''.
Department chief Nathee Chitsawang said the programme would be extended to all prisons nationwide as it helps prisoners to develop firm intentions and goals for doing good and has helped to bring them peace of mind, he said.