Push to make Buddhism state religion
by Nanchanok Wongsamuth, The Bangkok Post, Oct 25, 2015
Several Buddhist groups are again hoping the constitution drafters will include Buddhism as the official state religion.
Bangkok, Thailand -- Supporters have declared that this time proposals to the drafters would be made peacefully, after a previous attempt failed during the coup-installed Gen Surayud Chulanont government in 2007.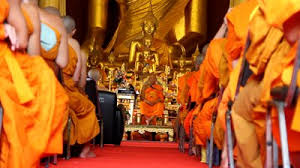 At that time the Constitution Drafting Assembly rejected a proposal to make Buddhism the state religion in the draft charter, drawing an angry response from monks and laymen who demonstrated outside parliament.
"No government has ever taken an interest in Buddhism, resulting in a decline in the religion," said Korn Meedee, the secretary of a committee to promote Buddhism as the state religion.
Although the 2007 constitution did not say Buddhism is the state religion, it did require the state to patronise and protect Buddhism. But supporters of the campaign want the government to also enact bills to patronise and protect Buddhism with heavy penalties, such as jail terms for monks who cause "harm and disgrace" to the religion, as well as eradicate images that do not properly represent it.
"We want to eradicate non-pure forms of Buddhism, such as using the religion for commercial purposes, as well as the use of Hindu statues inside Buddhist temples," said Mr Korn, who added that the move would not infringe on the rights of other religions.
In the past week the group has distributed 100,000 forms for a petition in all provinces except the Muslim-dominated Pattani, Yala and Narathiwat.
Although the law requires 10,000 signatures in order to propose a draft bill, Mr Korn is hoping the campaign will attract more than one million signatures. "So far, no Buddhist has objected to our plan," Mr Korn said.
Phra Narupchai Apinunto, who heads an organisation to protect Buddhism in the South, said the religion is increasingly coming under threat, especially in the southern border provinces where insurgents have targeted monks, soldiers and innocent people.
Phra Narupchai said Buddhists in the area live in fear and would like a guarantee that their religion will be protected.
Buddhist scholar Vichak Panich, however, said the move to increase Buddhism's role in law-making will eventually result in Thailand becoming a semi-religious state.
"The state will be able to use this as a tool to create a sense of sacredness for itself in the same way as the lese majeste law is used," he said, adding that if the movement succeeds, several laws violating freedom and rights will inevitably follow.