Bangladesh embassy in Thailand highlights Buddhist heritage of both countries
bdnews24.com, Dec 11, 2015
Bangkok, Thailand -- The Bangladesh embassy in Bangkok, celebrating its 40th anniversary, has highlighted the Buddhist heritage of Thailand and Bangladesh through an exceptional programme.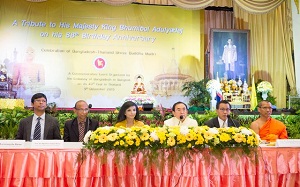 The embassy also organised a prayer for the good health of the Thai King HM Bhumibol on his 88th birthday.
The ASEAN Buddhists Federation supported the programme, the embassy said on Friday.
Nearly 300 Bangladeshi Bouddha Bhikkhu students studying in Thailand as well as more than 100 Bhikkhus from Thailand, Myanmar, Cambodia, Japan and even China joined the prayer and seminar.
"This reaffirmed the fundamental message we wanted to convey – that the Thai-ASEAN Buddhist Sanghas need to take a fresh look at Bangladesh's ancient and contemporary Buddhist heritage under the secular patronage of Prime Minister Sheikh Hasina and create greater 'maitri' with Bangladesh", the embassy said.
A 10-member delegation of Buddhist Bhikkhus and scholars from Bangladesh, including the senior Vice Presidents of Bangladesh Bouddha Krishti Prochar Shongho Dr Deepankar Barua and Karunangsho Barua joined the celebration.
Thai Culture Minister Khun Vira Rojpojchanarat, who visited Bangladesh on the Bengali New Year in April 2015, speaking as chief guest at the seminar said Thailand's ancient Buddhist linkage with Bangladesh "needs to be revived though greater exchanges of Buddhism scholars and research between the two countries".
He expressed hope that the proposed cultural cooperation agreement would include cooperation on Buddhism studies and preservation of shared heritage.
Thailand's Minister for Prime Minister's Office ML Panadda Diskul, inaugurating the prayer chanting ceremony for the King, said the people and government of Thailand were "grateful" to Bangladesh for arranging this "exceptional gesture of goodwill to the King".
Bangladesh Ambassador Saida Muna Tasneem delivered the welcome remarks.