Conflict bars supreme patriarch appointment
by PATSARA JIKKHAM, The Bangkok Post, 13 Jan 2016
Bangkok, Thailand -- It is clear who is in a position to become the supreme patriarch, but the nomination will continue to be postponed just as long as conflicts involving the appointment remain, Deputy Prime Minister Wissanu Krea-ngam said on Wednesday.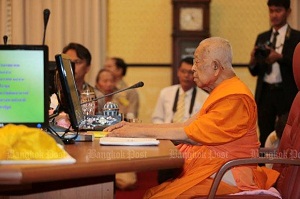 << Somdet Phra Maha Ratchamangalacharn chairs a meeting of the Sangha Supreme Council on Jan 11. The government stands firm that his nomination as the new supreme patriarch will not happen as long as conflict prevails.

By law, Somdet Phra Maha Ratchamangalacharn would be nominated as the next supreme patriarch because he was the most senior candidate, and whether he was respected or not was a matter in the minds of the people, Mr Wissanu said.
However, he echoed Prime Minister Prayut Chan-o-cha's stance that the government would not send the nomination to His Majesty the King for approval just as long as there was a conflict.
If the nomination was made while the conflict continued, those opposed would send in objections and the Office of His Majesty's Principal Private Secretary would return the nomination, Mr Wissanu said.
He said the conflict involved followers of various senior monks fighting for their mentors.
He said the government had not received any nomination from the Sangha Supreme Council and that there was a way out of the issue.
Somdet Phra Maha Ratchamangalacharn, the 90-year-old abbot of Wat Pak Nam Phasi Charoen who is also known as Somdet Chuang, has been facing criticism for an allegedly close relationship to Phra Dhammachayo, the controversial abbot of Wat Phra Dhammakaya, and alleged luxury car tax evasion.
Wat Phra Dhammakaya has been accused of distorting Buddhist teachings and was connected to the multi-billion-baht fraud at Thailand's richest cooperative, Klongchan Credit Union.
Justice Minister Paiboon Koomchaya said on Wednesday that the Department of Special Investigation was handling the luxury car tax case and the Customs Department was assessing a tax rate.
The position of supreme patriarch has been open since the death of the 19th leader, Somdet Phra Nyanasamvara, on Oct 24, 2013.