No signs of foul play Wat Sa Ket ex-abbot's death
Bangkok Post, 28 Jan 2016
Bangkok, Thailand -- Police are continuing their investigation into the death of a former Sangha Supreme Council member, but say they have found nothing that points to foul play.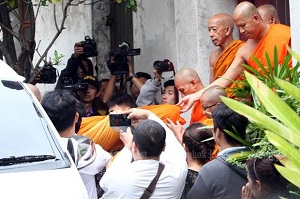 << The body of Phra Phromsuthi is moved from Wat Sa Ket in Bangkok on Monday. (Photo by Apichart Jinakul)
Investigating officers spent more than three hours on Thursday collecting evidence at Wat Sa Ket in Pomprap Sattruphai district of Bangkok, questioning monks and checking security camera footage as they seek to confirm the cause of death of Phra Phromsuthi, the 58-year-old former abbot and Sangha councillor.
Pol Maj Gen Songpol Watthanachai, the commander of Bangkok Police Division 6, said investigators found what could be a suicide note. They did not discover any indication that the monk's death was anything but suicide, as originally suspected.
He said CCTV footage showed nothing unusual and there were no bruises on the body.
It was reported that Phra Phromsuthi was found hanging in his living quarters at Wat Sa Ket on Monday. Police reached the scene after the body had been cut down.
National police chief Chakthip Chaijinda said the death had to be investigated especially thoroughly because Phra Phromsuthi was a senior monk. Forensic police had yet to conclude the autopsy.
It was also reported that Phra Phromsuthi had suffered chronic mental and physical symptoms associated with stress and depression.
Phra Phromsuthi was appointed abbot on Dec 22, 2013, having served as caretaker abbot after Somdej Phra Buddhacharn, the former acting Supreme Patriarch also known as Somdet Kiew and ex-abbot of Wat Sa Ket, died earlier that year.
However, Somdet Phra Maha Ratchamangalacharn, acting on behalf of the Supreme Patriarch, issued an order on Jan 15 last year to expel Phra Phromsuthi from the Sangha Supreme Council on the grounds he had misspent 67 million baht from the state budget to stage Somdet Kiew's funeral.
Phra Phromsuthi was also removed as abbot of Wat Sa Ket on the same day he was expelled from the SSC.