Khon Kaen abbot caught with forbidden fruit
by JAKKRAPAN NATHANRI, The Bangkok Post, 29 Jan 2016
KHON KAEN, Thailand -- A temple abbot caught in a locked hall at night with a woman follower explained to angry villagers he was not having sex with her - he merely hungered for jujubes and had asked her to bring him his favourite fruit.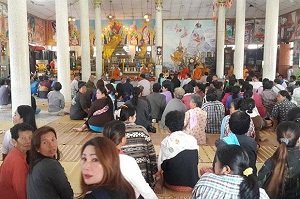 << More than 200 local residents pack the temple hall at Wat Sawangweha in Khon Kaen's Ban Phai district, demanding the expulsion of the abbot for allegedly having sexual relations with a female follower.
The people of Ban Phai district were not convinced, and demanded he leave the temple.
On Friday more than 200 residents gathered in protest for the third time, stepping up the pressure on Phra Khru Somjit Santijitto, abbot of Wat Sawangweha temple at Kudchuek village in tambon Ban Lan.
They accused him of sexual involvement with a female follower identified only as Ms Noi.
Duangjan Khumduang, 43, an assistant village head of Kudchuek, said Ms Noi lived in a nearby village. She often visited the senior monk and returned home with cash and goods.
The sex scandal involving the monk came to light in mid-December when a village security volunteer saw the woman arriving at the temple around 9pm. She parked her motorcycle near the temple hall and went to meet the abbot.
The lights at the hall were not turned off when she first entered, but the doors and all windows were later locked, Mr Duangjan said.
The security volunteer told local residents what he had seen and they gathered at the temple. They called  out, asking the abbot and the woman to open the door to the hall, but there was no response.
Village leaders then forced open the door and found the abbot sitting inside alone. A search found Ms Noi hiding under a table, behind buckets of donated goods and a pile of mats. She was wearing a white long-sleeved blouse and shorts.
Prakat Soma, 50, kamnan of tambon Ban Lan, said Phra Khru Somjit had been abbot since 2004. He had fully cooperated with local residents to develop the temple. 
However, his conduct had recently changed and rumours spread that he was having an affair with a  woman. The village committee decided to keep a close watch on the monk, and finally caught him in the hall with Ms Noi.
The district chief monk recently decided the abbot must leave the temple, but Phra Khru Somjit refused. He also denied the sexual allegation, claiming he simply wanted to eat jujubes that night and had asked Ms Noi to bring him some, the kamnan said.
A panel of monks was investigating the allegation.
However, the local people wanted the abbot to leave the temple within 24 hours, as they had lost their faith in him, said Mr Prakat.
Local officials from the Damrongtham complaints centre in Ban Phai district were sent to observe the situation on Friday afternoon, where the locals were stilll gathered demanding the abbot's departure.