Most want Supreme Patriarch appointment deferred
The Bangkok Post, Feb 28, 2016
Bangkok, Thailand -- Most people believe the prime minister should defer a proposal for His Majesty the King to appoint the new Supreme Patriarch until conflicts in monastic circles are resolved, according to an opinion survey by the National Institute of Development Administration or Nida Poll.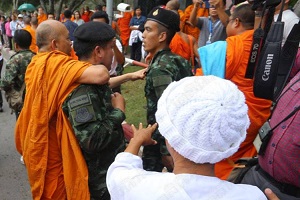 << Several thousand monks and their supporters assembled at Phutthamonthon in Nakhon Pathom on Feb 15 to demand endorsement of the 20th Supreme Patriarch. Soldiers guarded the area but clashes occurred when the monks tried to push the soldiers' trucks from the area. (File photo)

The poll was conducted on Feb 23-24 on 1,251 people of various levels of education and occupations to compile their opinions on the appointment of the new Supreme Patriarch and monastic ranks.
The Sangha Supreme Council has nominated Somdet Phra Maha Ratchamangalacharn, also known as Somdet Chuang, to be the country's chief monk. Somdet Chuang, however, has been implicated in a number of controversies including his possession of a vintage luxury car.
On the appointment of the new Supreme Patriarch, 45.8% of the respondents said the prime minister should wait until the conflicts in the monastic circle had been resolved; 28.3% said the prime minister should forward the nomination of Somdet Chuang to the King for endorsement; 18.31% urged the prime minister to exercise his power under Section 44 of the interim charter to nominate candidates for the post by himself for the King to chose; and, the rest had no comment.
Asked to comment on monastic ranks, 62.11% said the existing ranks for monks should remain unchanged: 19.82% said only the position of Supreme Patriarch should be kept; 12.87% said monks's should be abolished; and, 5.20% no comments.