World Fellowship of Buddhist Youth President purged as Dhammakaya fallout takes hold
The Buddhist Channel, April 9, 2016
Bangkok, Thailand -- The President of the World Fellowship of Buddhist Youth (WFBY), Dr. Pornchai Pinyapong was unanimously voted out by the body's executive committee in an emergency meeting held at it's headquarters in Bangkok, on Monday, April 4, 2016.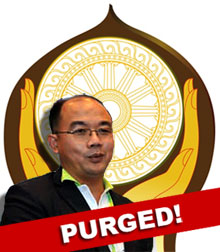 Along with Dr. Pornchai, WFBY's Treasurer Dr. Napoldech Manilanga was also removed. The WFBY exco also suspended all ties with Dhammakaya Foundation (DKF) via the termination of its affiliate organizations, which acted as WFBY's regional centers.
According to the statement issued on April 5, the duos expulsion was related to their links to the DKF.
The DKF is currently being interrogated by the Department of Special Investigation for money laundering and receiving stolen property in connection with the Klongchan Credit Union Cooperative embezzlement scandal. Summons were issued by the DSI's Bureau of Financial and Banking Crime to Phra Dhammachayo, founder of Dhammakaya, who is required to report to the DSI headquarters on April 8 at 9am.
WFBY says that the scandals have brought "shame and disrepute" to the youth body through being associated with DKF via its affiliate bodies.
Moreover its top office bearers, the President and Treasurer respectively are also members of DKF.
A specific case of misdemeanor by Dr Pornchai - pointed out by the WFBY exco, was his role in donating over one million Baht to build Ma Ba Tha's radio station. Ma Ba Tha, led by Myanmar monk Ashin Wirathu, is widely regarded as a racist organization.
It has supported campaigns which has incited violent retributions against the mainly Muslim Rohingyas.
WFBY has claimed that the donations were never recorded in the organization's accounts nor were the Executive Board made aware of it.
Mr. Loka Ng Sai Kai, the current Deputy President, has been appointed as the acting President. He is the first Malaysian to head the WFBY. Mr. Idanont Thaiarry, the current Vice President will now concurrently hold the acting Treasurer position.