Men-at-alms
by PATHUM THANI, The Economist, Apr 2 2016
A squabble in the clergy widens Thailand's dangerous divides
Bangkok, Thailand -- JUST north of Bangkok, the Thai capital, stands an enormous golden stupa designed to last 1,000 years. Its gleaming exterior is made not from smooth tiles but from 300,000 tightly-packed statues of the Buddha; 700,000 more are hidden inside.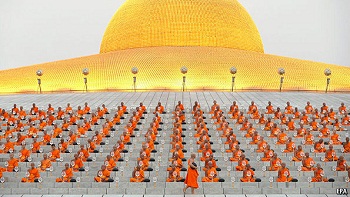 Just as staggering is the vast apron surrounding the stupa, able to hold 1m worshippers. Worakate, a guide dressed in white, explains that followers of the Theravada school of Buddhism—dominant in Thailand and elsewhere in South-East Asia—have never had a gathering place as large as Mecca or the Vatican. She thinks the monument can be a meeting point for adherents from around the world.
The stupa is the centrepiece of a sprawling religious complex, not all of it quite so bling, inhabited by the Dhammakaya movement. An influential if controversial Buddhist sect, it was founded by a handful of monks in the 1970s and now claims more than 3m followers in some 30 countries. As many as 10,000 mainly middle-class Thais flock to its Sunday ceremonies. One of the temple's senior monks, Phra Somchai Thannavuddho, says that slick modern management has helped. But a big draw, he says, is the purity and clarity of its practices, qualities which many other temples have left behind.
The movement's opponents are numerous and vocal, and tell a different tale. Conservative worrywarts have long warned that the sect is more like a cult, beholden to its septuagenarian abbot, Phra Dhammachayo (who is almost always seen in signature shades). They say that the conventional Buddhist teachings it issues to newcomers conceal wacky theologies unveiled to adherents once they rise in the temple's ranks. And they allege that the temple has grown wealthy by intimating that religious merit may be bought with fistfuls of cash.
The controversy over the Dhammayaka temple is one of several tearing at Thailand's Buddhist establishment. At heart is a battle over who should be the next Supreme Patriarch, the country's chief monk and the leader of its two Theravada Buddhist orders, Maha Nikaya and Dhammayuttika Nikaya. The previous incumbent was 100 years old when he died in 2013; he was cremated in December. Following tradition, the Sangha council—in effect, Thai Buddhism's governing body—announced that the next-most-senior clergyman, Somdet Chuang, should succeed him. But under pressure from dissenters, the junta that has ruled Thailand since a coup in 2014 has declined to submit the nomination to the royal palace for approval—thereby putting the process on hold.
In part, the monks and lay people who oppose the nomination see an opportunity to push through an overhaul of Thai Buddhism's stuffy governance that they say is long overdue. They accuse the Sangha council, hierarchical and gerontocratic, of failing to tackle rising materialism among the clergy, which has lately led to a string of embarrassing revelations involving wayward monks. Somdet Chuang is himself under investigation: police say he accepted as a gift a vintage Mercedes Benz that had been imported without paying the proper dues (his lawyer says he has done nothing wrong). Critics also accuse the council of being unhelpfully silent on contentious modern issues such as homosexuality and female ordination.
But their opposition also has much to do with the Dhammakaya temple, which they say the council has sheltered from investigations into its finances and beliefs. Critics also foster the perception that the temple's top brass are sympathetic to the cause of Thaksin Shinawatra, a populist former prime minister, detested by Thailand's elites, whose parties have won every general election since 2001 but who now lives in self-imposed exile. The insinuation is that the Sangha council and Thai Buddhism more broadly have been captured by Thaksinite forces and must now be liberated.
The temple says this is all nonsense, and that among its visitors and donors are politicians of every hue. The Sangha council is defending itself too. But the brawl is dangerous for the junta, whatever the truth. Lacking a democratic mandate, it would gain a huge boost from the monks' blessing. Instead it finds itself caught between two embittered factions, neither of which it can ignore. The council's opponents include Buddha Issara, a former soldier who is now a firebrand monk. He was influential in the royalist protests that helped to bring the junta to power and is now one of its most outspoken supporters.
In the long run…
Meanwhile, Somdet Chuang's backers include members of an ultranationalist group, the Buddhist Protection Centre of Thailand. In February it helped organise a rally at which monks were filmed scuffling with soldiers (the same day troops also loitered outside Dhammakaya temple, lest any of its clergy were tempted to join the fray). Some clergy warn that the furore over the nomination actually conceals an attempt by monks from the smaller Dhammayuttika Nikiya, traditionally patronised by the elites, to keep down clergy from the larger Maha Nikaya.
The spat is uncomfortable for the junta, but perhaps it can be managed. Khemthong Tonsakulrungruang, a scholar of law and Buddhism at Bristol University, reckons that Thailand's government may try to spin out the present stalemate for as long as possible. It might, in other words, be years before a new Supreme Patriarch is appointed. Whether the present nominee, who is now 90 years old, will be available for the job is another matter.