Female monks blame sexism for burning down of temple dormitory in Rayong, Thailand
by NANCHANOK WONGSAMUTH, The Bangkok Post, April 17, 2016
Bangkok, Thailand -- Female Buddhist monks at a temple in Rayong suspect the burning down of one of their dormitories was an attack by arsonists disgruntled with the role of women in the clergy.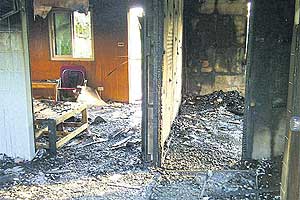 << Fire and brimstone: The dormitory at the International Women's Meditation Centre was badly damaged in the fire on April 3.
The fire occurred on the afternoon of April 3. Although there were no witnesses to the attack, two of the female monks at the temple believe that a group of men jumped the fence of the International Women's Meditation Centre and set fire to the women's dormitory.
Police have yet to investigate the fire and determine the cause of the blaze.
The centre teaches meditation and dhamma, but also provides ordinations for women, a controversial practice not recognised by the male clergy.
Abbess Phra Bhikkhuni Lee, a female monk from the United States, said the fire followed threats from a group of men on March 9. She said seven men, who appeared drunk, stood outside the gates and threatened to burn down the temple if they did not leave the village.
A day before the fire, a group of 50 Thai women, including female Buddhist monks, had left for Taiwan on a trip organised by Phra Bhikkhuni Lee for the Outstanding Women in Buddhism Awards as part of International Women's Day. Phra Bhikkhuni Lee stayed behind, however she suspects the fire is connected to the trip.
"The backlash after the female monks went to International Women's Day is simply intolerable," Phra Bhikkhuni Lee told the Bangkok Post Sunday. "The mafia here don't want bhikkhunis," she added, using the term for female monks.
Since then, they have been subject to harassment and intimidation, with men jumping over the temple fence and onto the roof at night with guns and destroying CCTV equipment.
On March 13, Phra Bhikkhuni Lee received two death threats via the Line messaging app. Complaints were filed to local police, but no arrests have been made.
"We are perplexed and are having a hard time interpreting the incident," said Phra Bhikkhuni Lee. "I don't think it came from the village level because everything was going along smoothly for eight years, so why all of a sudden?"
Phra Bhikkhuni Lee said oppression and violence toward female clergy has been reported across Thailand, often driven by male monks. "Last year they taught that you can't ordain women. They teach at the local temples that bhikkhunis are wrong. So part of the problem is bhikkhus [male monks] are perpetuating the violence," she said.
Phra Bhikkhuni Rattanavali, the temple's co-founder, said Phra Bhikkhuni Lee's vision goes against Thailand's patriarchal values. "So you can imagine the backlash it can create," she said.