Buddhists tell PM they live in fear
by WASSANA NANUAM, Bangkok Post, Nov 8, 2004
Narathiwat, Thailand -- People in the deep South yesterday complained to Prime Minister Thaksin Shinawatra about lack of safety following the daily killings of Buddhists by Muslim insurgents.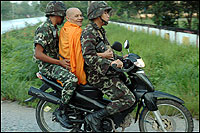 A group of 200 Thai Buddhists aired their grievances to the prime minister, who yesterday presided over a royal robe-giving ceremony at Wat Chontharasinghae in Narathiwat's Tak Bai district amid tight security.
Uthai Jamla-ied, 61, a villager in tambon Lamphu of Narathiwat's Muang district, said Buddhists lived in fear of being shot.
``Muslim insurgents want Thai Buddhists to leave the deep South. They kill our members as they want us to move. But we won't move elsewhere as it's our homeland. We want the government to protect us,'' said Mr Uthai.
Mr Thaksin said he would help the residents. ``The government is tackling the problem. I am aware that Thai Buddhists live in fear and have been targeted in attacks. I will try my best to tackle the problem,'' Mr Thaksin told people who waited for him at the temple.
He denied the routine killings of Buddhists in the deep South were an act of revenge by Muslim militants for the mass deaths of Muslim protesters at Tak Bai on Oct 25.
At the temple, security was tight with about 200 heavily-armed soldiers and navy officers on hand. After spending 50 minutes at the temple, Mr Thaksin left for Banthon airport to meet Gen Sirichai Tunyasiri, deputy supreme commander and head of the Southern Border Provinces Peace-building Command (SBPPC).
After returning to Bangkok, Mr Thaksin said he expected the situation in the South to improve within two weeks. By that time security and psychological operations plans would be in effect and the situation in the region should be getting better.
He had also discussed with Gen Sirichai how cooperation between agencies in Bangkok and in the South could be improved.